Euflora at 401 16th Street Mall in Denver is quite possibly the best dispensary in Denver. Euflora is Colorado's largest recreational cannabis store, but this has nothing to do with my opinion that the club is the best dispensary in Denver – I'd think this even if the shop was crammed into a few dozen square feet. Instead, it's the staff, the marijuana products selection, the comprehensive level of cannabis information provided and the sheer aesthetic beauty of Euflora that sets it apart as Denver's top dispensary. After checking out this review, you might just have to go see for yourself.
Denver Dispensary Review Rating for Euflora: 5 of 5 Stars!
[author-post-rating]
Euflora: Environment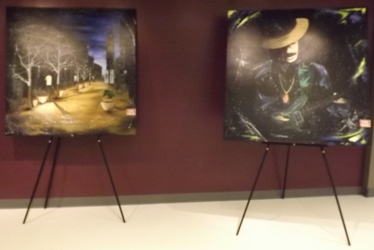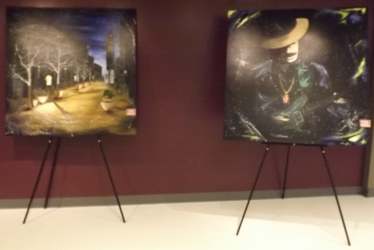 From the moment you enter Euflora at 401 16th Street Mall, it's clear that the place is not your typical Denver dispensary. From the highly polished black stone floors to the crisp entryway sign and the stairs leading down to the main shop, everything is spotlessly clean.
Once downstairs I was met by a clean-cut looking young guy wearing a Euflora shirt. He greeted me warmly and asked me if I had ever been to the club before. When I answered "no," he took a few moments to explain how the dispensary works and pointed out several other staff members who were available for questions should they arise.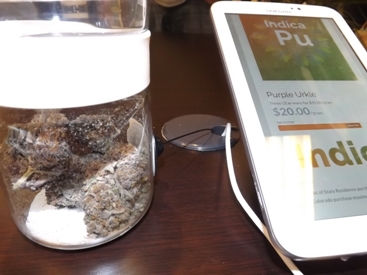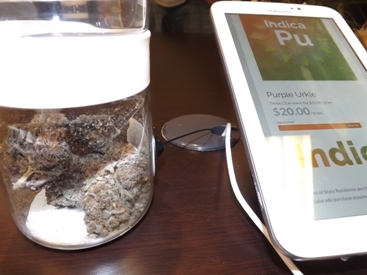 As you enter the main door Euflora opens up expansively; it's a large, clinically-clean place with displays and products on the outside edges of the shop, spacious walkways in between, and a beautiful dispensary and checkout station in the very center of the room. It's bright and modern and radically professional compared to many cannabis related businesses that I have reviewed. However, these guys have somehow managed to blend these qualities with a laid-back, completely relaxed atmosphere that you'd think belies the crispness of it all, but it doesn't.
Unlike nearly all of the other clubs I visited in Denver during the week of 4/20, Euflora was discreetly air-conditioned. I had grown accustomed to sweating while checking out a number of other downtown dispensaries so this was a welcome relief.
Euflora's environment and ambiance is sweet. I wish that Colorado would pull the stick out of its bum and allow these businesses to install special equipment in order to permit customers to sit down and smoke, but we're just not there yet. Bummer. Still, Euflora features a tasteful environment that is information-rich and mixed with attractive paintings from local artists, making this a great place to check out even if you can't lounge and smoke.
Euflora: Marijuana Selection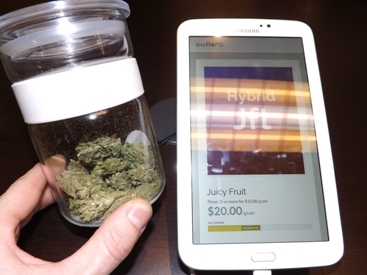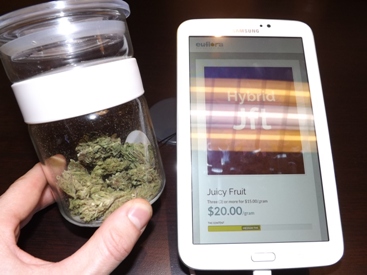 Euflora has an exemplary selection of cannabis strains that were refreshingly different than what many other dispensaries in Denver were offering at the time. I was most impressed with the Island Sweet Skunk, Juicy Fruit and Purple Urkle. I purchased a couple of grams of Purple Urkle intending to conduct a strain review of this wildly purple strain, but instead I smoked it all during the High Times Cannabis Cup and never got the review done. Thankfully, that alone should tell you a little about my thoughts on Purple Urkle; I liked it so much it went up in smoke before I could get my job done.
Euflora presents its cannabis strains in a unique and brilliantly effective way. Large clear jars packed with buds are placed next to tablet devices. Each device corresponds to the strain in the jar next to it. The device has an app that describes the strain, giving critical information to both medical and recreational users in an engaging and interactive way.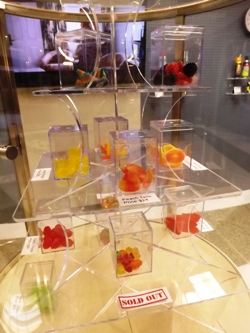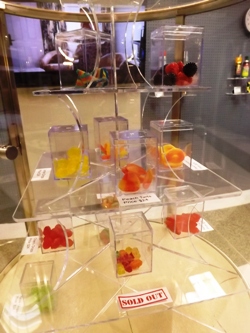 This type of presentation is really quite remarkable and I expect to see a trend of it at clubs and dispensaries around the world in the coming years. I've never owned a tablet or an iPhone or anything like that, but the technology is intuitive even to crotchety old hippies that refuse to embrace it. 😉
Unfortunately, the prices were higher for raw cannabis at Euflora than at any other dispensary I visited in Denver. At $24 per gram I nearly choked at the register. In the Northeast US I can acquire similar weed for around $11 per gram, and the average cost for comparable cannabis is about 10 Euro per gram in Amsterdam and Barcelona.
Of course, most of Denver's other dispensaries were charging $20 per gram, but even at that rate we're talking double the worldwide rates. Euflora's cannabis was $4 more per gram than many other Denver dispensaries.

Euflora: Accessories & Extras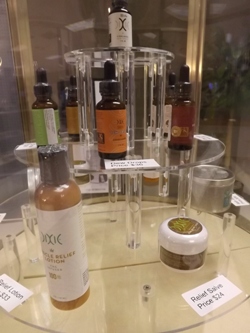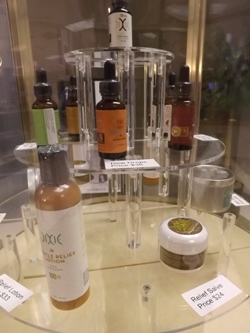 Euflora has a large selection of marijuana edibles and cannabis-infused beverages. The shop features beautiful glass display cases neatly stocked with gummy worms and gummy fish, peach tarts and other candies, Dixie Elixirs THC-infused sparkling beverages and a lot more. There's even an entire wall where glass pipes and other smoking equipment is uniquely displayed.
The shop has several handsome displays setup neatly off to the side that showcases the clothing and apparel they have on offer; hats, t-shirts, sweatshirts, and some other trinkets and marijuana memorabilia. I inspected some of the clothing and distinctly remember noticing that overall it was constructed of much higher quality materials than that being sold elsewhere.
Euflora: Staff
Euflora staff members are spot-on. Articulate, knowledgeable and sharply dressed, you can tell they take pride in their store & dispensary. I noticed that each customer was individually greeted – and not just cursorily – and then later while perusing the strains another staff member would often ask them if they had any questions. It's almost like they're salesmen – they seem like they genuinely want to help you and in Euflora's case this is legitimate, as they don't need to sell their product.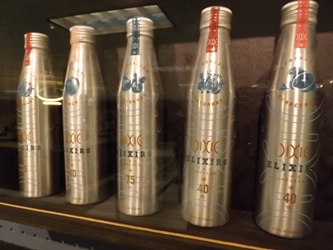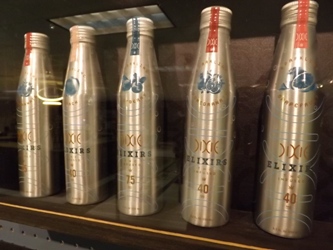 Euflora's product sells itself; even if the staff who ran this shop were douchebags, people would still come to buy their awesome weed. This tells me that the team here is invested in the long term future of the store and the people it serves. Other clubs and dispensaries know you're going to buy weed anyway and so they just don't even bother to try when it comes to customer service. Euflora staff, on the other hand, seems to truly want their customers to become better educated about cannabis, and to ensure that they are able to purchase only the products that are right for their specific, highly individualized needs.
But it goes beyond this, and it goes beyond the random chance that the 6 or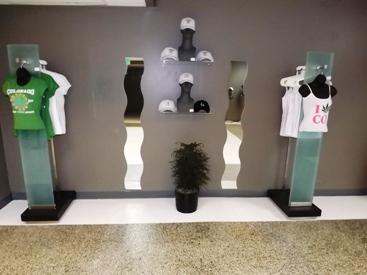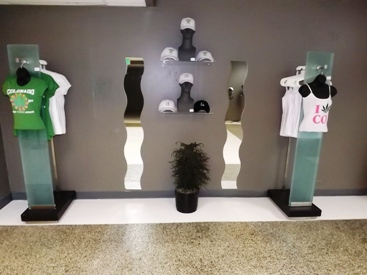 so staff members I observed were all cool characters. These guys were excited about their job; they had high energy without being imposing or cheesy, and when they explained things it was clear that they were well versed in the subject. But when they didn't know the answer to a question, they asked other staff members or searched for the answer online.
Despite taking a significant amount of time with each customer, Euflora was sufficiently staffed to handle the busy 4/20 holiday
week and the influx of visitors in Denver for the High Times Cannabis Cup. Other Denver dispensaries were not properly staffed and suffered depressingly long lines and service times.

Conclusion
Euflora is a spacious, bright, modern and welcoming dispensary located in the most desirable and convenient area of Denver: 16th Street Mall. From the staff to the products and environment, this place is tight. In my opinion Euflora is the best dispensary in Denver, and I think it would be hard to find a challenger. If you've got one in mind let us hear it in the comments!
Denver Dispensary Review Rating for Euflora: 5 of 5 Stars!
[author-post-rating]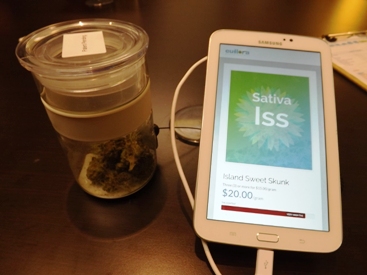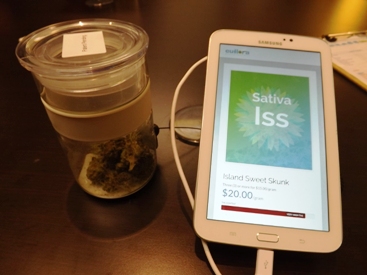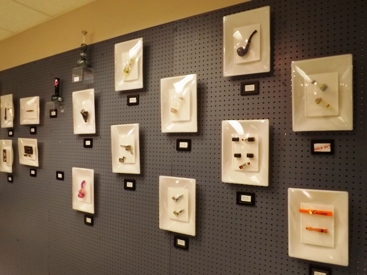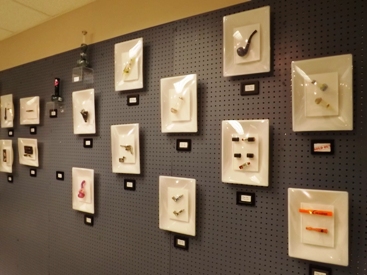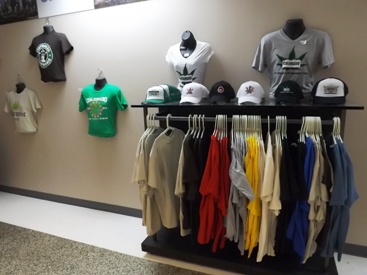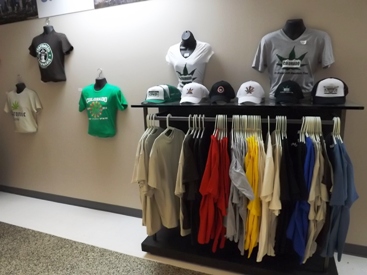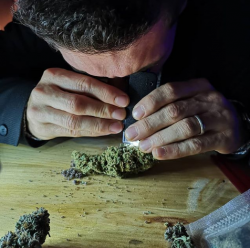 Latest posts by Russ Hudson
(see all)