The Sour Diesel strain holds a legendary status among many Cannabis Connoisseurs, although it's not one of my favorites personally. Sour Diesel is moderately potent and fairly long lasting but without the fanfare of taste and aroma offered by similar strains like NYC Diesel. However, Sour Diesel provides some unique effects that make it an excellent candidate for some medical uses, and ultimately the strain is pretty stony at high doses – even for veterans. This Sour Diesel strain review is for the type grown and produced by La Conte's Clone Bar & Dispensary in Denver, Colorado.
Marijuana Strain Review Rating for Sour Diesel: 4 of 5 Stars
[author-post-rating]
Sour Diesel: Look & Feel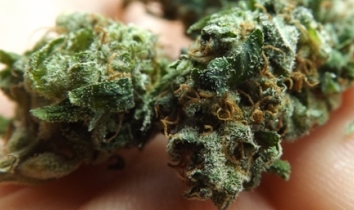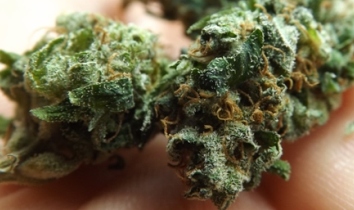 The Sour Diesel that I got from La Conte's consisted of extremely appealing dark green buds. This was a change from the colors I have been seeing for the last few months, which are generally much lighter green and are usually more colorful as far as oranges/purples, etc. This Sour diesel was lightly splattered with darker orange hairs, although a couple sections of the buds had far more orange than others.
Overall the buds featured short trichomes that were inconsistently spread throughout – some pieces were heavily crystallized, while others only had little stragglers of short and stubby crystals. Despite this the buds were not sticky at all, but they weren't dry either. They were extremely dense but still obviously fresh.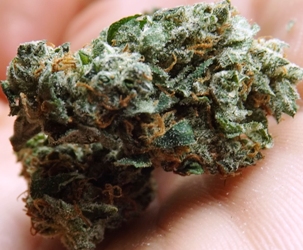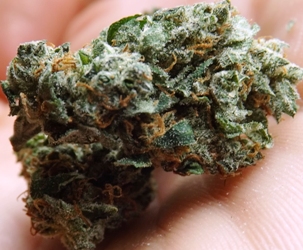 Sour Diesel: Taste & Smell
Sour Diesel starts out with a potent smell of fuel that gets stronger and stronger the more it is processed. When you break these buds up, prepare to vent the room! The smell was similar to NYC Diesel, but had a sweet, almost sugary profile that softened up the smell of raw fuel. Personally, I like the sharper smell of NYC Diesel better.
I smoked Sour Diesel in a joint, a glass pipe and a bong and noticed practically no flavor profile at all. There's nothing sweet or sharp there – nothing fruity or citrusy either. Instead, there is only a slight earthy taste that in my opinion accompanies all smoke. There's nothing bad about the way this batch of Sour Diesel tasted, but there wasn't anything particularly good either and so could best be summed up as "meh."
Sour Diesel: Potency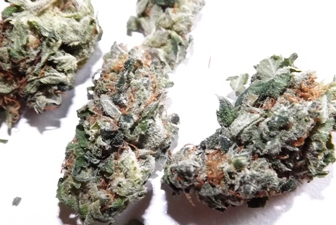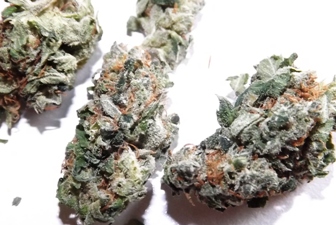 This strain hits nearly immediately, which makes it great for people who need to feel medicated in a hurry. Two hits were enough to get me high but not enough to satisfy me. The high started in the top and sides of my head, with noticeably no effects on the back of the head or neck. I didn't feel any body effects by two hits and I felt fairly motivated despite the nice buzz.
After 4 hits I was high enough to be satisfied, but not high enough to break into that shit-eating "dude I'm stoned" perma-grin that comes with weed that really kicks your ass. The high moved down into my face and began to crawl its way over my entire chin and sort of just sat there for a while. The feeling of the high in the skin of my face intensified over a short peaking period and then settled out into a pleasant tingling numbness.
The most unique feature of this strain was its effects on my hands.
I felt the high strongly in my wrist, hands and especially in my joints and fingers. This fascinated me because as I writer I sometimes struggle with pain related to these areas specifically. The effect was definitely a sort of muffled numbness, which would be great if I was looking to relax and write without pain, but probably would make my fingers retarded if I tried to do something more complex like play guitar.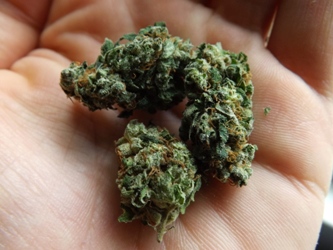 Sour Diesel: Duration
At lower doses Sour Diesel does not seem to have a peaking period and the full effects are available to smokers immediately. At higher doses there is an 8-10 minute peaking period, followed by a high that lasts for about 2.5 hours for veteran smokers. Eating and drinking does reduce the high substantially; in my opinion by as much as 35-40%. Duration for novices and beginners could be as much as 4 – 4.5 hours or more, but not as long as similar strains.
Conclusion
Sour Diesel is an interesting strain with a number of excellent therapeutic purposes. I think this strain is especially useful as a potential treatment for skin conditions of the head and face like nerve pain, acne, sunburn, etc. It also seems to have significant application as a treatment for pain, swelling, injury, arthritis or other problems of joints of the fingers, hands and wrists.
I also noticed that Sour Diesel is an excellent strain for people who suffer from anxiety and may give them the ability to feel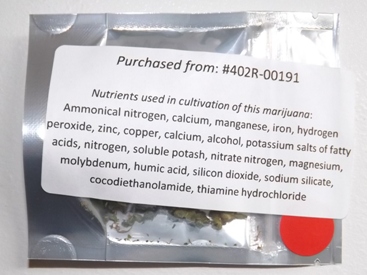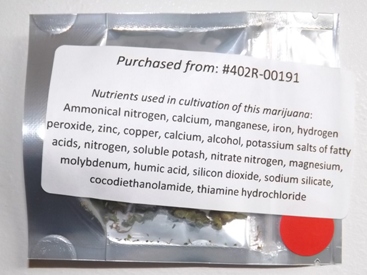 comfortable in social situations that would otherwise stress them out.
However, overall I don't consider Sour Diesel to be a great choice for recreational use. Yes, it's potent and yes, it will get you high, but there's really not much special about it for recreational users – at least not for this veteran toker. If something else of comparable or even slightly lower potency is around, I'd probably take it over Sour Diesel.
Have you tried Sour Diesel? What did you think? Let us know in the comments and help others choose the right strain for them.
Marijuana Strain Review Rating for Sour Diesel: 4 of 5 Stars
[author-post-rating]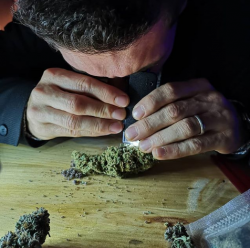 Latest posts by Russ Hudson
(see all)