The Blue Dream marijuana strain has been extremely popular during 2013 and 2014. In fact, my weed connection in the States has used it to create a couple of entirely new cannabis strains including LA Blue and Blue Caramel Dream. I picked up a 1/4 ounce of Blue Dream and at first wasn't overly happy about it as I am not fond of Sativas, and Blue Dream is a sativa-dominant hybrid (supposedly; who knows what this particular phenotype consists of). However, I actually enjoyed this strain immensely despite some mildly unpleasant effects, and think that it can serve some excellent therapeutic purposes for the right individuals.
Marijuana Strain Review Rating of Blue Dream: 5 of 5 Stars!
[author-post-rating]
Blue Dream: Look & Feel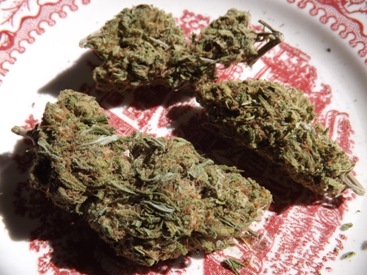 The Blue Dream strain consists of beautiful military olive drab buds that are heavily blended with light orange hairs, with these hairs becoming much darker on the inside of the buds. The flowers are extremely dense but still moderately pliable. Fairly sticky, when pressed Blue Dream buds will remain stuck to your finger for a couple of seconds before dropping off.
Blue Dream nuggets are absolutely covered in a massive amount of long and thin tricromes, and despite the denseness of the centers of the buds, the tricromes within stand quite tall. The density of these tricromes extends onto even the last bits of the fan leaves.
Overall Blue Dream looks and smells like a strong Indica, even though by most accounts it is a pretty fairly well divided hybrid.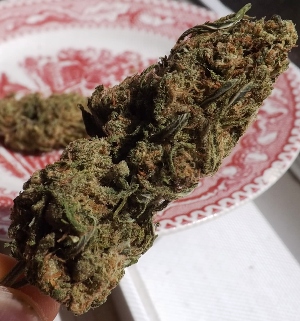 Blue Dream: Taste & Smell
When nosing the raw flowers, Blue Dream smells like diesel, blueberries, saffron and something that I can only describe as "cookie dough." But when breaking the buds up, the smell of diesel comes through strongly and mostly overpowers these other smells, although a sweet impression remains.
The smoke from Blue Dream is moderately expansive and the first hit took me a little by surprise in this regard. But what really struck me is the obvious blueberry flavor profile. The taste is clearly blueberry, but it's blended with a mellow, sweet flavor that turns the overall scent into blueberries and cream. A slightly earthy aftertaste clings to the roof of the mouth and the back of the tongue.
Blue Dream is a highly unique strain in that it is the only cannabis strain I have ever smoked that actually made my mouth water, unlike most strains that cause "cotton mouth." I found this to be a fairly consistent effect of the strain regardless of how many times I smoked it.
Blue Dream: Potency
My customary practice when conducting a strain review is to take 4 big hits from a bong with a clean screen and fresh water. In the case of Blue Dream, I was fairly high by the second hit. I felt the effects first in the top-rear of my head, which over the course of a few minutes moved into the top-middle area of my scalp.
Although I was clearly high by this time, my eyes did not swell, redden or close up. There was a tingling in the high point of my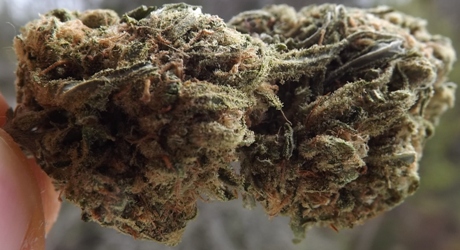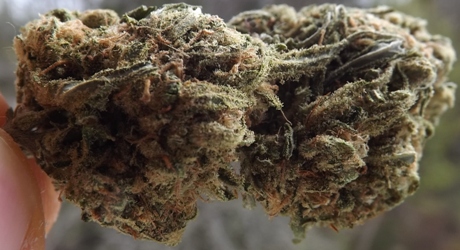 cheek bones, and I could feel a not-unpleasant pressure in my sinuses.
After the first two hits, the high continued to increase for about 5-8 minutes. During this time I felt zero body effects – the entire high was situated physically in my head. I felt extremely motivated and ambitious, almost to the point of restlessness. In fact, there was a tightness in my chest and I felt rather anxious; a little speedy, almost.
After 3 hits the taste of blueberries was still prevalent and the high increased dramatically in the sides and back of my head. The effects intensified in my cheeks and quickly moved upward toward my temples in a pleasant sort of tingly buzzing.
After the fourth and final hit, my temples, cheeks and forehead buzzed steadily and I experienced a mild swelling/closing of the eyes. I was extremely high by this time, but I was also sharply focused and I found that my hands were working furiously on taking notes, managing emails, etc. My mind raced and I was unable to sit still, as I was completely overcome with the feeling that I must "do something." The tightness in my chest remained.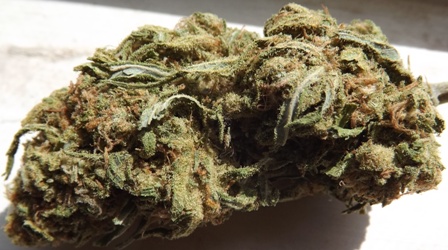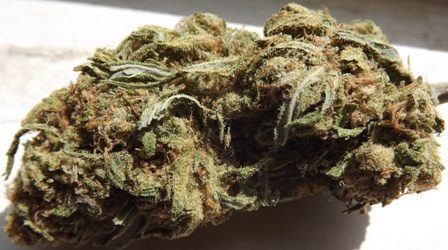 Blue Dream: Duration
The high from the Blue Dream cannabis strain takes effect almost immediately and lasts for around 2.5 to 3 hours for daily, veteran smokers. There is a peaking period of 5-10 minutes overall, with a very consistent high felt thereafter. One significant benefit of this strain is that the high is not reduced significantly by eating, hot weather or even extreme labor.
Conclusion
Blue Dream is an interesting and potent cannabis strain with a number of potential therapeutic purposes. I didn't feel any of the effects of the Indica and in my opinion the Sativa in this strain shines through strongly. This is a superior strain for those who want to medicate or get high while still being motivated to work or play hard.
However, I strongly feel that this is not a good strain for people who suffer from any type of anxiety.
Its primary uses based on my experience include use as a sleep aid, to treat headaches and/or migraines, and for invigoration of artistic, work/career or other mental or physical efforts.
Have you tried Blue Dream? How did it affect you? Let us know in the comments!
Marijuana Strain Review Rating of Blue Dream: 5 of 5 Stars!
[author-post-rating]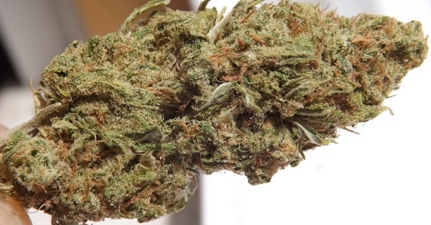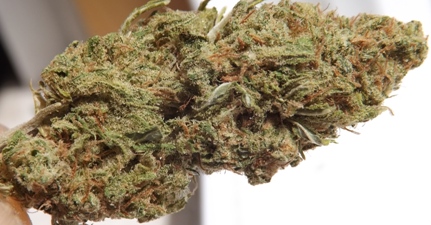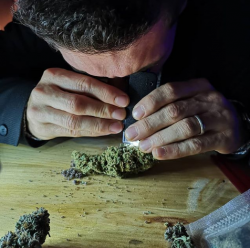 Latest posts by Russ Hudson
(see all)