Blue Caramel Dream is a cannabis strain that has been developed by an undisclosed grower and geneticist out of California. The strain is an indica dominant hybrid that was created by crossing the Blueberry Strain with Cream Caramel and Northern Lights. I find this particularly interesting because I don't consider Northern Lights to be a premium strain, but the resultant Blue Caramel Dream is indeed a high-grade premium marijuana strain.
Marijuana Strain Review Rating for Blue Caramel Dream: 4 of 5 Stars
Blue Caramel Dream: Look & Feel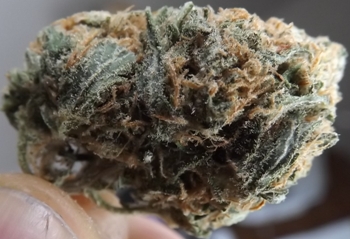 Blue Caramel dream buds are moderately compact and appear mostly green from afar, but when you examine them up close, there is actually more orange than green. Like the LA Blue strain that I recently reviewed, this strain has very short trichromes with surprising distribution. In good light it's easy to see that this strain is quote frosty.
The buds I acquired were only mildly sticky, not too crumbly but still dry, and overall fairly heavy for their size. The stems were quite small and light, which means that gram for gram this strain provides a lot of value on the dollar.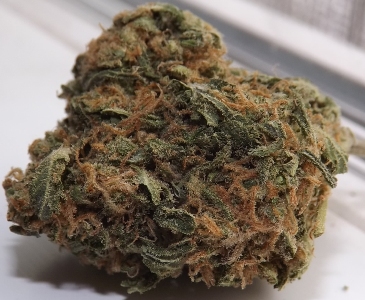 Blue Caramel Dream: Taste & Smell
This strain smells immediately of light ammonia and vanilla, with a clear citrus high note. Interestingly, these smells combine when smoked to create a flavor that's a lot like the US brand of cereal, Fruit Loops. Think sugary grains with citrus.
The Fruit Loops flavor quickly dissipates after 2-3 hits, but the remainder still smokes clear and crisp without a nasty after taste.
The smoke from the Blue Caramel Dream that I got was moderately harsh and care had to be exercised in order to avoid coughing fits.
Blue Caramel Dream: Potency
After 2 hits from a clean bong I felt a mild high slip down over my forehead and the top-front of my head. This feeling continued to peak for 5-7 minutes afterward, moving into the "mask" zone and the sides of my head. Eventually it began to move partway down the back of my neck, creating a pleasant numbing effect.
After 3 hits the high began to move down my spine, all the way to the upper-center of my back.
After 4 hits I was thoroughly high and moderately drowsy. For 20 to 30 minutes I felt extremely spacey and drifted from one thought to the next. The high spread into my upper back muscles, the top of my shoulders and in the skin on the outside of my clavicles. Weird.

At the crux of the peaking period the high intensified dramatically and the entire front of my face, forehead, cheeks and chin felt numb and my eyes closed to slits. I was really, really high.
However, I was still able to regain my focus, write an article and delve deep into some analytics data even early in the morning, so this isn't the type of pot that will incapacitate you…unless you let it.
Blue Caramel Dream: Duration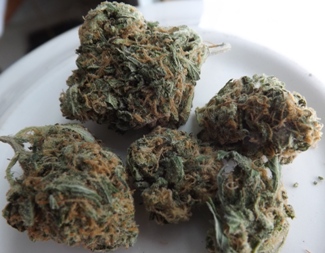 The overall duration of Blue Caramel Dream is about 2.5 hours for veteran smokers. For inexperienced smokers I could easily see this high lasting 5-6 hours.
The peaking period for individual hits seems to be about 5 minutes, while the overall peaking period seems to be around 10-20. Eating hot food and drinking cold beverages does not seem to lessen the high, but I have not been able to test if vigorous exercise does or not.
Conclusion
Blue Caramel Dream is potent and tasty and makes an excellent candidate for a medical strain. This strain can be used to treat insomnia, back and neck pain, and probably headaches and even migraines. However, it just doesn't quite have the Wow! factor that would take this strain to a 5 Star level. It's close, but not quite. Until our friend in California does some more genetic work on the strain, we're quite happy with this strong 4 star performer.
Marijuana Strain Review Rating for Blue Caramel Dream: 4 of 5 Stars