Coronavirus protocols at coffeeshops in Amsterdam vary significantly from one shop to the next, with rigid enforcement of stringent practices in one cannabis shop, and virtually no protocols at another.  Official policy in Amsterdam is somewhat loosely enforced, and it is precisely this that has led to the inconsistent COVID-19 practices at cannabis coffeeshops throughout this ancient Dutch city.  If you plan to visit coffeeshops in Amsterdam during the pandemic, this article details exactly what you can expect; the unexpected.
Amsterdam's coffeeshops were initially nearly crippled in the early days of the COVID-19 pandemic, with the city losing more than 50,000 tourists and visitors per day[1] for much of 2020.  However, despite the protests of residents, activity in the city began picking up again during the summer, and as of September was mostly back in full-swing, with tourists streaming in from other European and Schengen group countries.  This influx prompted Amsterdam officials to enact several policies in an attempt to mitigate rising coronavirus infection rates.
The primary rule Amsterdam officials are enforcing regarding coronavirus protocols is the requirement that all passengers using public transport wear a mask over their nose and mouth[2]. The fine for not wearing a mask on public transport is 95€.  Other rules that are enforced sporadically primarily center around maintaining social distance of 1.5 meters, and limiting the size of groups.  According to the City of Amsterdam, fines for not maintaining social distance can be as high as 390€. But even with these rules, the city appears to be in a free-for-all, with most businesses – including coffeeshops – setting their own policies.
This author queried members of a large Amsterdam coffeeshop group on Facebook and asked about coronavirus protocols experienced by visitors of coffeeshops during the pandemic. The answers were varied, and, in some cases, conflicting: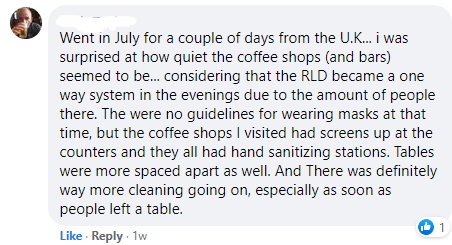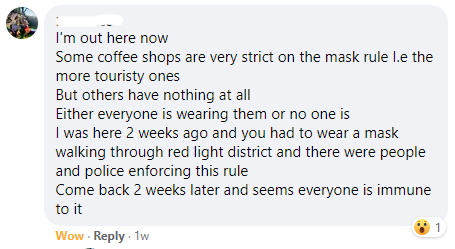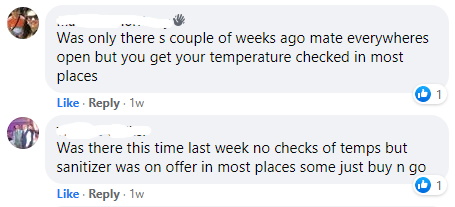 Ultimately, foreigners and visitors can access Amsterdam's coffeeshops as long as they're willing to follow the guidelines set out by individual shops.  Carrying a mask and hand sanitizer is logical and will help gain entry to many coffeeshops, but some – like the infamous Grey Area – are only open for take-away orders. Additionally, with COVID-19 infection rates on the rise in the Netherlands as of late September, policies may change, additional restrictions may be ordered, and more shops might close to in-person business.  Consequently, it's best to call, message, or check the social media pages or website of Amsterdam coffeeshops that you'd like to visit.
---
[1] Rodriguez, Cecilia  Amsterdam After Coronavirus: No More Cannabis, Sex, and Mass Tourism, Citizens Demand.  Forbes https://www.forbes.com/sites/ceciliarodriguez/2020/06/21/amsterdam-after-coronavirus-no-more-drugs-sex-and-mass-tourism-/ Accessed September 24, 2020
[2] Government of the Netherlands: FAQs about tourism in the Netherlands and COVID-19 measures From: https://www.government.nl/topics/coronavirus-covid-19/tourism-in-the-netherlands  Accessed September 20, 2020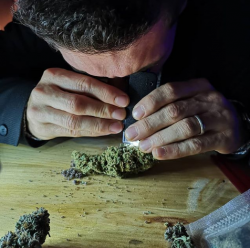 Latest posts by Russ Hudson
(see all)