This hash review covers my experience with the "Iceolator" variety of hash called Black Poison. I acquired 1 gram of Black Poison from Abcda in Barcelona, Spain. The first gram that I got never made it through the review process; I liked it so much that I smoked it among friends within the first 24 hours. The second time I made sure to get my pictures and notes taken for the hash review before I smoked it all.
Hash Review Rating of Black Poison: 8.75 of 10 Stars
(There's a story behind this review, so if you just want to get to the meat of it please skip this section)
First of all, I wasn't really sure what this stuff was when I got it. The dispensada didn't speak English very well and my Spanish sucks, but she said it's like a hash extract. I don't know exactly how it's made, but what you get is essentially a small baggie of brownish crumbles.
I had been to Abcda a couple of times and the guy who initially sponsored me to join, Paul, was there when I went to review the Black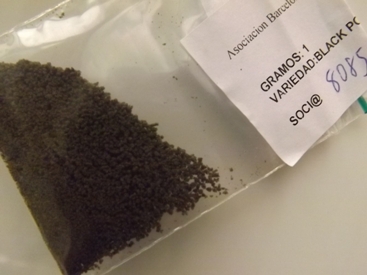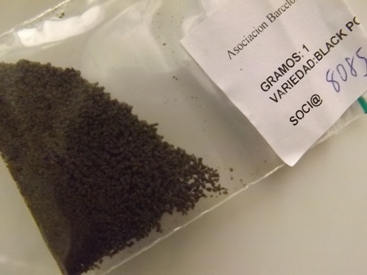 Poison. There were a couple of guys playing guitar and singing that night – it was a Friday night, and Paul invited me over to join his group.
The group changed throughout the next couple of hours – one or two guys would leave and one or two more would take their place. Some of them spoke damn good English, and they were all cool and mellow. They ceaselessly passed around joints with a mix of tobacco and marijuana, which I declined as I don't smoke tobacco.
I sat there, hanging out and puffing on my pipe. Eventually it occurred to me that it might be rude for me to hogging my stuff when the rest of the group was sharing theirs. So I packed a massive bowl full of Black Poison and offered it around. The first couple guys refused flatly, but the next three took one hit each and then promptly began to cough. They kept coughing for a while and I chuckled, watching the faces they were making as they attempted to bring their coughing under control.
Measured hits are the key to this stuff.
The other guys in the circle refused, so I took another hit and passed it to the three who had finally recovered from coughing. They declined.
I sat there and smoked my pipe for a bit and listened to the music. The duo played some Johnny Cash and did him justice. It was a fun couple of hours hanging out there at Abcda.
Afterward I took the Black Poison home to my wife and it put her in bed a little early that night. By the next day, it was gone.
Black Poison Hash Review
So yesterday I went back to Abcda and got another gram of the Poison, this time with my camera and notebook at the ready.
First of all, this stuff smells nice enough that if it was cheap and abundant I'd have it in a bowl in the middle of the room, potpourri style. The scent is absolutely enticing- like spicy cinnamon chocolate.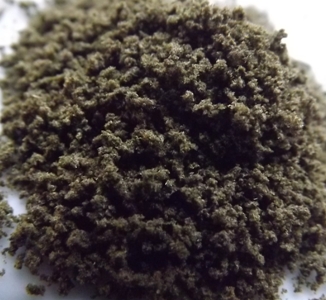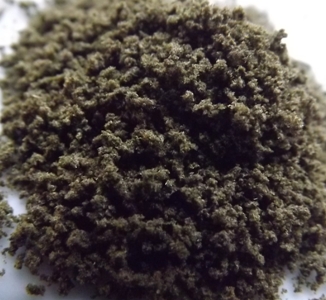 It's not something you want to handle too much. When you look at it close up, you can see that it's really a bunch of little pellets. These pellets bounce around a lot, so it's best to just scoop your pipe in and fire it up. Obviously, it's not sticky at all.
It smokes a little rough, but it's still yummy. You'll probably cough a little bit if taking rips from a bong, but you'll appreciate the melted buttermilk cocoa taste it leaves in your mouth.
Any time I review marijuana or hash I start with a clean bong and take 4 hits. I took 2 hits of the Black Poison and felt it right away; it creeps up from the base of your neck. I sat there for bit, watching the mind-numbingly awful VH1 videos that Abcda had playing in the middle of the afternoon. I had to really coax myself to take hits number 3 and 4; it was hot and busy out that day and I still had some business to attend to. I was afraid if I took the standard measure of 4 hits that I'd be too high. Eventually I manned up and took the hits, chugged a free bottle of water (Abcda provides free soda, coffee and water to all its members), thanked the doorman and walked back to the beach.
The high is very heady and may put you to sleep.
I had to fight to prevent a nap attack. I lost that battle.
This is potent stuff and it's just damned fun to smoke. At 20 Euro per gram it's reasonably priced, but I'd really like to find something as potent for less. When I do I'll write it up, so click the RSS icon below or at the top of the site to get updated on that post automatically.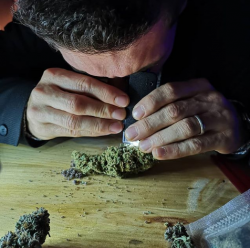 Latest posts by Russ Hudson
(see all)