If you're looking for a no-frills bohemian style cannabis club near Las Ramblas in Barcelona, Crème de la Crème could be what you need. Located just off the Ramblas, in the middle of all the action of the city's heart, Crème de la Crème cannabis club is a great place to meet interesting people and smoke good weed in the safety of a private legal social club.
Barcelona Cannabis Club Review Rating for Crème de la Crème: 3 of 5 Stars
(This is a preliminary application process; not all who apply will qualify for membership based on Spanish law and club policy. Application for membership is general and is not necessarily applied to any particular club unless the applicant fully qualifies.)
Creme de la Creme Cannabis Club: Historic Location in Barcelona
During the time of the Roman Empire, there was a road the Romans used to connect their colony of Barcino to what is now the modern-day area of Sarría outside of central Barcelona. This ancient road is known as the Roman Funeral Way because during the first and third centuries, it was lined with commoner's graves on either side. Centuries later in 1588, a sect of Barefooted Carmelites chose a site along the then-buried road for their convent, subsequently unearthing the ruins of the ancient Roman road and burial grounds.
Today, this ancient gravesite acts as the centerpiece of a beautiful, shady plaza 2 minutes from Barcelona's famous Las Ramblas. The plaza, soaked in history, is also home to Creme de la Creme; a modest but popular cannabis club with business and social connections to other well-known cannabis associations around the city.
Crème de la Crème: Environment
After being greeted in a small reception area, you are ushered through to a single main room. The space is divided between the bar; which at one end serves hot and cold drinks and packaged snacks, and at the other has a raised counter dispensing cannabis. Here there are two different seating areas for members.
The lighting inside Creme de la Creme is low. Colored strip lights divide the walls and the recessed ceiling lights change color in intervals, giving more of the suggestion of a nightlife establishment than your typical cannabis association. The gray-painted walls display the club's cannabis crown logo in several places
The furniture is designed to optimize the capacity of the small space, which is typical of many businesses and restaurants in Barcelona. Narrow leather couches, accompanied by miniature coffee tables and ottomans, run the length of the room. Ledges for rolling joints or setting down drinks are provided for standing members and a slightly larger ledge with three barstools provides a few extra seats. Up a short spiral staircase, the single bathroom is kept clean and tidy.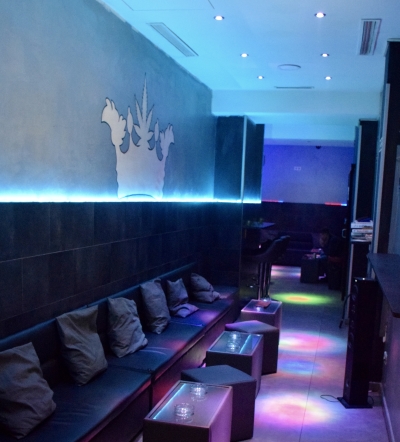 The lighting, volume and type of music, and the slow internet speed doesn't make this club the best choice for a working environment, but when I am there, I'm generally the only one trying to work. It's just not that kind of place.
There are only a few people coming and going during the early part of the day; the average length of stay I observed of most members is short. The space fills up during nights and weekends, however, when groups of friends lounge happily around the club. Along with its central location, being one of the few associations in the city open past midnight also makes it a very appealing choice for those with later plans.
Crème de la Crème: Staff
The staff at Creme de la Creme are friendly and attentive. The cute girl at the front desk greeted me warmly. When I explained that I was there for a review, her look of recognition indicated that the staff had already been informed about my visit; a sign of good communication within the organization. She popped inside to explain to yet another cute girl at the bar why I was there.
The girl inside was helpful, keeping an eye on me and anticipating my needs; clearing and tidying areas before I photographed them and ensuring other members were safely out of the shot. A little later, another pretty girl arrived to work her first day as budtender, so I asked her some questions about the cannabis selection and events available for members. She answered animatedly and to the best of her ability, considering I gave her a pop quiz on her first day.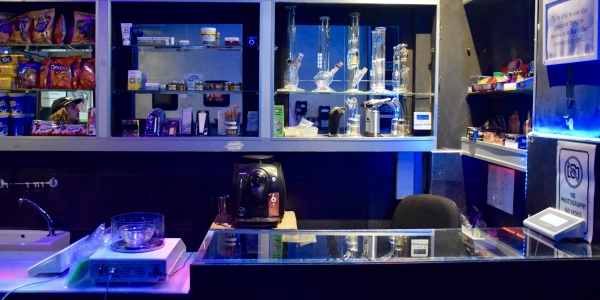 I did notice what seems to be a gender imbalance at the club; I observed mostly female staff and mostly male patrons even after numerous visits. This imbalance, accompanied by a music playlist including lyrics like; "Girl, can you really take dick or nah?" and "You need a nigga that's gonna put it in your mouth," quite frankly made me feel less than comfortable as an unaccompanied woman. There are a few easy ways that this could be addressed; a simple change of music or perhaps events like a 'Ladies Night" to attract more female members to hang out. I have no doubt the cool, intelligent female smokers on staff will have a few ideas.
Crème de la Crème: Cannabis Selection
Creme de la Creme's cannabis is the clear reason why it's members keep coming back. The club carries a wide variety of raw flower and hash, with their menu boasting at least 10 different types of Sativa strains and only slightly fewer of indica varieties.
The club's hash selection is also wide-ranging. I noticed one type of extraction, labeled only 'BHO'; with a small sign explaining the basics of what BHO extraction is. There are other such informative signs in and around the cannabis counter; others discussing hash or the basic differences between indica and sativa.
The new budtender recommended Toxic, a strain she knew better than the others because her previous club had also stocked it. This a was a hard-hitting sativa; too strong for me to work, but a great euphoric head-high for upbeat social situations. I also decided to try Panama; an indica with a pleasant full body high that could be used to provide serious pain relief, but still allows enough clarity to focus on working tasks.
Each strain on the menu was also labeled with its percentage of THC versus CBD. I noted that almost all the indica strains on display had very high levels of CBD present, with some having an even higher percentage of CBD than THC. These high-CBD strains will surely appeal to both medical consumers who want high levels of this cannabinoid to treat specific conditions, as well as recreational users who simply prefer a more balanced cannabinoid profile.
Crème de la Crème: Accessories
Like many cannabis clubs in Barcelona, Creme de la Creme has a selection of board games for member use, including chess, backgammon, dominoes, Ludo, Chinese Checkers and several decks of cards. Amongst the games, I also came across a stack of a dozen or more membership cards, with member's full names and ID numbers written on them. (It is the club's policy that members leave their cards with staff when using bongs or grinders). Now, as a club reviewer, it is my journalistic duty to report careless handling of members' private information; just as a food critic could not fail to report a rat in the kitchen. I was disturbed by this discovery and immediately returned the membership cards to the employee at the counter, whom I did not question further about it as she was busy with another member. Requiring collateral to use equipment is understandable and is a common practice at some clubs in the city, but collateral should be held behind the counter.
Crème de la Crème: Events
"…It's funny you should ask that, because I was just having this exact conversation with the girls, about wanting to do events," the budtender tells me when I ask about events like movie nights or DJ sets. The music at Creme de la Creme is chosen by the staff; generally, they tell me, using Spotify playlists (I'll send them some recommendations), with screens around the club playing silent videos in the background.
"Do any cannabis clubs in the city have events?" asks a talented English artist, doodling at the bar as he overhears my questions. "I think they really don't want to draw attention to themselves; the clubs," he explains. "Especially this one, as it's so central; right by the Rambla. A lot of clubs get shut down for using promoters or advertising publicly." I explain to him that I'm only asking about events inside the club for existing members.
"Well, as you can see, it's a very small space, even for a DJ," another staff member agrees.
"Besides, it's so central that you don't have to hang out here all the time. I love to go from here to the beach or MACBA," the artist continues, referring to the popular skateboarder hangout on the other side of the Rambla.
"Would you call it a skater place?" I inquire further.
There's a lot, he laughs, There are great people here. I've only lived here a couple months, but to be honest, all I want is a good spliff. I don't need to join any other club.
Conclusion
Creme de la Creme certainly has a lot going for it, from product to location to convenient hours. I noticed a couple things that can be improved; but recognizing and addressing points of improvement are one of the many reasons why reviews are helpful to both organizations and consumers. Here, the people are friendly and the weed is good. Excellent location and a variety of products including many high-CBD strains will undoubtedly continue to draw members to this humble spot. The music, however, needs to go.
Have you been to Crème de la Crème? Let us know about your experience in the comments section below!
Barcelona Cannabis Club Review Rating for Crème de la Crème: 3 of 5 Stars
(This is a preliminary application process; not all who apply will qualify for membership based on Spanish law and club policy. Application for membership is general and is not necessarily applied to any particular club unless the applicant fully qualifies.)