Organic Cannabis Club in Marbella, Spain, is a musically-oriented marijuana social club with a standing policy of "No Nuns, No Children, and No Non-Smokers." Offering all-organic cannabis varieties, Organic Cannabis Club Marbella is a rarity in Spain. And with a diverse selection of musical instruments available for members to play, this social smoker's club is an outstanding place to jam out with friends, relax, and enjoy the benefits of organic cannabis.
*****UPDATE: ARRESTS MADE, CLUB RAIDED******* Within hours of publishing this review, the President of the club called us and told us the club had been raided, she (the President) arrested and jailed, and the club has been shut down. This is the 7th time that Organic Cannabis Club Marbella has been raided by police, and sadly, the President has indicated that the club will not attempt to reopen.
Organic Cannabis Club Marbella: History
Organic Cannabis Club Marbella was one of the first cannabis social clubs in Malaga, Spain, back in 2013. Today, the smoker's association is one of only three clubs in Marbella, having survived not one or even two, but six raids by police. Located on the outskirts of town, near the Marbella arch, the Organic Cannabis Club Marbella is a bit quieter and therefore a bit safer than clubs that exist in the center of the city.
Organic Cannabis Club Marbella: Location
Run by mother and son team, Dominique and Bob, the pair moved to Marbella in 2016 after the fourth police raid. Since then, they've moved from a beachfront location to their current nook on a roof terrace above El Callejon restaurant. This out-of-the-way location offers discretion to seasoned smokers because the surrounding businesses are closed in the evenings and at weekends. Though the street is dark and slightly ominous after dusk, it's safe because Marbella's local police station is a stone's throw away, opposite the club on the beach side of the highway.
Think of it as hiding in plain sight.
Organic Cannabis Club Marbella: Environment
When you enter, the smell of weed and a cornucopia of knick-knacks immediately jostle for your attention. Everything about this club is Bohemian. It's a club for smokers who like their spliffs without a side order of swank. Originally from Holland, Dominique likes to keep things old-school, which is why the club is reminiscent of your brother's pad when he was going through his Marley phase. This is a true close-knit social club, not a tourist trap.
The main room is spacious with tiled floor, large screen TV in the corner blasting reggae, and pop culture framed prints on the green and purple walls. There's a collection of musical instruments in one corner – an open invitation to musicians to hang out and play. Impromptu sessions are a regular occurrence, particularly at the weekend when noise levels are not an issue, thanks to the absence of neighbors.
There are two sets of bookshelves, and both are jammed full of books in English, Spanish, and Dutch – something for you to browse through if you go in solo. That said, the open plan of low tables, couches, beanbags and stools make this club a personalized space that encourages chatting between club members. The dispensary is in an office out back, and that's where members go to select their bud of choice.
Organic Cannabis Club Marbella: Cannabis Selection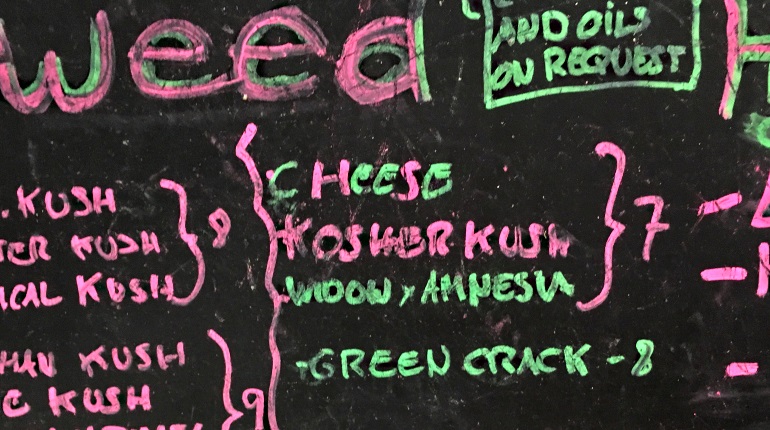 The club has a healthy a mix of both recreational and medicinal users. The available selection of cannabis is listed on a chalkboard in the dispensary. The club offers 15 strains, including Critical Kush, Afghan Kush, Blue Kush, Cream Caramel, and Tangerine Dream. As well as bud, the club makes rosin and oils on request, and is hooked-up with a talented baker who whips up brownies and other organic treats on demand.
Organic Cannabis Club Marbella: Staff
Mother and son are a good team in an Odd Couple sort of way, with Dominique playing Oscar to Bob's Felix. While Dominique is the zany creative energy behind the club, Bob is the cool-headed dispenser. Their bond is obvious and there's very much the sense that no matter what it takes to keep the club open, they're prepared to do it.
While they're committed to the normalization of marijuana consumption and do keep an open attitude, experience has taught them to be vigilant. Make sure to bring identification on every visit, and – ideally – call in advance so they know you're coming.
Despite its tumultuous past, Dominique and Bob don't plan to let anything get in the way of the club's long-term goal to be Marbella's hardiest smoke den. They've just signed a lease for a 176msq. space on the terrace next door to the current location.
The new club is twice the size and has a huge terrace with a stunning view of Marbella at night. All the moving around is a bit nerve-racking, but Dominique is adamant the new location is a keeper. In the future, she plans to host events, including live music and open mic nights. The house rules will be simple: "no nuns, no children, no non-smokers."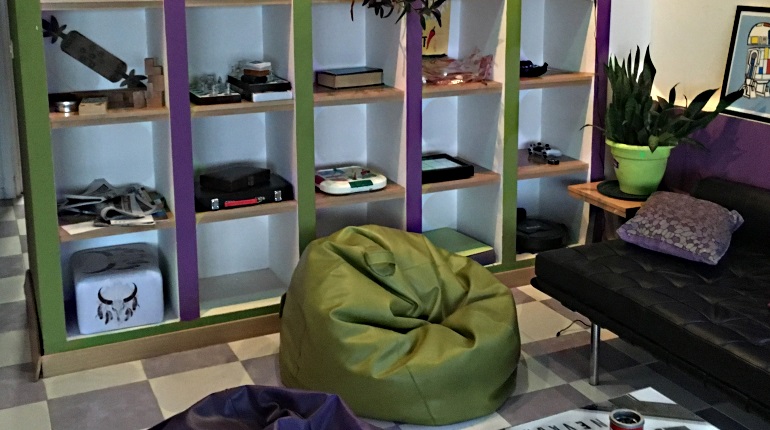 Conclusion
There's no question that this cannabis social club has had a challenging road to date, but -with persistence – it has managed to create a solid foundation from which to grow. On the wall in the dispensary there's a board with cash notes from all over the world tacked to it. An Indian Rupee, with its image of Gandhi, sits at the top of the board to remind this clubs' owners that it is intention, not money, that matters.
Are you a member of Organic Cannabis Club Marbella? Let us know your thoughts in the comments section below: