Voyagers Coffeeshop & Hotel in Amsterdam is located close to Centraal Station and the Damrak. I discovered Voyagers while walking about in Amsterdam's famously seedy red light district and was pleased to learn that the place is both a coffeeshop and a hotel. I went to Voyagers with expectations for a simple but relaxing evening after several days of exhausting travel, but that didn't happen. In fact, the experience was so terrible that it permeated the entire next day – even hours after I had checked out – and overall I wished I had stayed somewhere else.
Amsterdam Coffeeshop Review Rating for Voyagers Coffeeshop & Hotel: 2 of 5 Stars
[author-post-rating]
Voyagers Coffeeshop & Hotel: The Story Behind the Review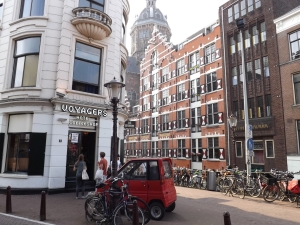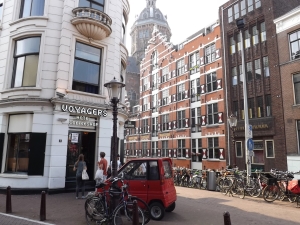 I have traveled quite a bit and have lived in numerous countries. I've cycled long-distance in Europe, the US and Costa Rica, and I've spent the night (including stealth-camping) in the weirdest places – at times with my family in tow. But despite all of this travel, I have never stayed in a hostel.
I spent the summer of 2014 in the U.S. and decided to fly into Amsterdam for a few weeks on my way back to Barcelona. This trip I intended to see what it is like to stay in a hostel, and I knew the quickest place to easily find one once on the ground would be in the red light district.
I walked to the red light district directly from Centraal Station and eventually passed a plain lighted sign that identified the small office beneath it as a Hotel/Hostel. The bespectacled man behind the desk was helping someone else when I entered, so I pretended to look at the notices on the walls, concentrating on the conversation between the two men; rates for a single room are 55 Euro, rates for dormitory or hostel stay dependent on how many in the party, how many nights, etc. The customer paid for a private room, took his key and receipt and merged with the flow of bodies against the brick walls outside.
The clerk stated that over the phone, the man sounded like "a little faggot,"
Meanwhile, I approached the counter but the clerk held up one finger to me as the phone rang. He answered and proceeded to talk loudly with the caller about a customer who had recently come complaining about his electronic room key, stating that he had been repeatedly locked out of his room. At one point the man behind the counter said that he was surprised when the customer finally came in to have his electronic key replaced or repaired. The clerk stated that over the phone, the man sounded like "a little faggot," but in person was actually a monstrous German.
I pretended not to hear him and waited for him to finish the call.
When the clerk eventually turned his attention to me I was offered a dormitory style room for 29 Euro or a private room for 55 Euro. Considering that I had been traveling for several days and did not sleep the night prior, I needed uninterrupted rest so I gave up on my idea of trying out a hostel and instead chose the private room and paid the clerk in cash. He handed me a receipt and a map and I stepped back out onto the street, weaving my way among the tightly packed pedestrians and cyclists.
Though the map was fairly clear I still got slightly lost but eventually made my way to Coffeeshop Voyagers.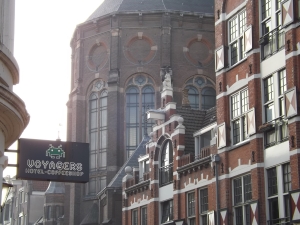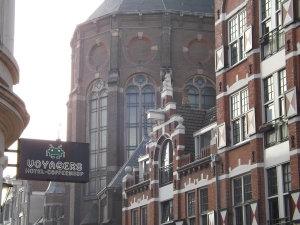 Voyagers Coffeeshop & Hotel: Environment
I arrived at Coffeeshop Voyagers around 21:00 and passed my receipt to the clerk behind the counter. He took it and explained a few things about the room and the building in general, then he handed me an electronic key and instructed me that my room was on the top floor of the building.
Instead of going up to my room immediately, I set my pack down and had a look at the coffeeshop's weed menu. I chose their top-shelf Holy Grail Kush, which is a cross between Kosher Kush and OG #18. I was interested in some fine quality hashish, but Voyagers only offered one choice; a Moroccan hash called Tingi. I got a couple of grams of it and stepped back to survey the coffeeshop.
The shop was very hot and most of the patrons inside had small beads of sweat on their brows. Due to its tiny size I was unable to sit down anywhere so I just stood there. There is a small seating area on the left as you enter, and a short counter with stools lines the other wall. All of this comprised a total seating capacity of about 12 people.
The walls were painted red and orange with some interesting zig-zag patterns here and there. The place was a little dingy and had a sort of Bohemian vibe. I expected my room to be similar and I was right, although it was much cleaner than the coffeeshop.
I hefted my bags one more time and climbed 4 flights of long, steep and narrow stairs. I arrived at the top floor hot and sweating.
Opening the door, I was pleased at how clean the room was, although it was rather sparse. The bed was surprisingly small and was barely large enough for me to comfortably sleep on, and I am not a large man.
There was no air conditioner and the television mounted on the wall did not work. A sink stood against one wall and a small door-less closet set into the back of the bed contained a rough towel and some extra bedding.
The room had one large window that opened up onto a beautiful, quiet canal below and many apartments on the other side.
Despite its obvious flaws I was satisfied with the room initially; my primary need was a bed to sleep on and a place to store my bags while I took care of some business in the morning. But as it turned out, neither of these primary needs were met.
I left the room and went out into the city to scout locations for coffeeshop reviews during the weeks that would follow. At around 1AM I returned to Voyagers to find that my key did not work. I swiped the fob in every way and using every possible motion and nothing happened. After I knew it was hopeless I continued to try anyway on the off chance that I might save myself the hassle of going through what I knew would come next.
I gave up and trudged back down the 4 flights of narrow stairs and tried the coffeeshop/hotel office entrance door. It was locked and all lights inside were off. There were no signs or notices or contacts posted on the door or windows and no one responded when I rapped my knuckles against the door.
I circled the block in frustration, and then worked my way back up the stairs to try the key again. Maybe this time, I reasoned, it would work.
It didn't.
It was extremely hot in the hallway so I climbed back down those now all-too-familiar steps and posted myself on the stoop leading up to the coffeeshop entrance. I had no plan but to wait out the night there.
I sat on that cold step for about 15 minutes before a noisy compressor nearby stopped running and I suddenly could hear a television playing loudly, and it seemed to be coming from inside the coffeeshop.
I began pounding on the door, much louder and relentless this time. Someone inside switched the television off and fumbled around for a long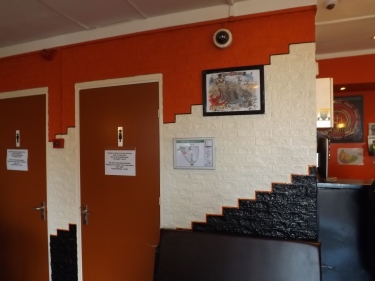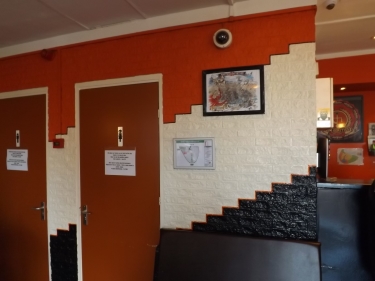 time before a dark hand swept aside the shade and a man peered out the window at me.
I held up my key and told him it didn't work. After a few more minutes he finally came out, locked the office door behind him and asked me to follow him upstairs. We climbed the stairs together wordlessly and he quickly unlocked my room at the top using the master key and then turned to leave.
Fortunately, the guy spoke English so I hastily explained to him that I would not be able to leave the room without propping the door open, to which he responded that I should come down to the office at 9AM to have the key fixed.
Thanks for nothing.
I realized that if I had to go to the bathroom overnight that I would need to prop the door and potentially leave my belongings open to theft. This also meant that I would not be able to shower in the morning until the key was fixed. Awesome.
I settled into the stark bed and turned off the lights. Almost immediately a mouse began playing around in the garbage can, even though there wasn't any food or other items of interest to a rodent in it. The sound of the garbage bag crinkling was pervasive through the night.
I could have slept through that, but there was virtually no way that I could have slept through the slamming of my door all night long. This occurred because of drafts and air current present in the building. When anyone in the building opened or closed their door, it caused my door to suck shut or open within its frame because of a gap in the way it was installed. This resulted in a disturbingly loud booming sound every so often that always seemed to occur just as I was falling asleep.
At 8:55 I left the room and closed the door behind me, taking my valuables with me and leaving the larger stuff. At 9:00 Voyagers coffeeshop was still closed and no staff were present. I waited ten minutes and then pounded on the doors again, at which a white-haired man opened the door and repeatedly told me to come back at 10:00 despite the fact that I was of course now locked out of my room again.
So I sat back down on the steps and waited. Nearly an hour later the manager who had checked me in the night before arrived and was unsurprisingly unaware of my situation. He cursed his staff and told me that they were "going to get yelled at;" as if that helped me somehow; knowing that someone was going to be punished for my experience.
It didn't.
He cursed his staff and told me that they were "going to get yelled at"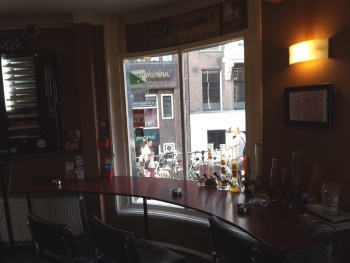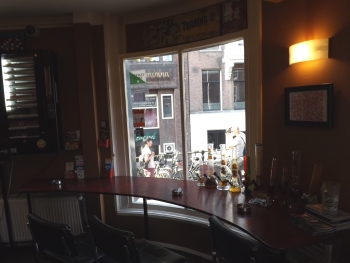 The manager searched through his keys for several minutes, muttering to himself from time to time before eventually telling me to wait outside and he would be back in 5 or 10 minutes. He went inside the coffeeshop and came out within the allotted 10 minutes. He gave me a new key and told me there should be no problem with it.
Back up the 4 flights of stairs I went. The key didn't work. I tried it dozens of times and it just didn't work.
Down the stairs again, back outside, pounding on the door. The manager opens the door and curses his staff again, as if the responsibility for the situation rested solely on their shoulders. He then gave me a master key and told me to please use it only for my room and explained that it could be used to unlock any room so he hoped he could trust me.
Lol.
Back up the stairs, the key works this time. I take a shower and get dressed and checkout time has arrived. So by this point there will be no opportunity to safely store my belongings in the room and do what I needed to do in the city unencumbered by heavy bags.
When I finally handed over the master key and checked-out at the front desk, the manager handed me a full refund in cash. He didn't come straight out and apologize, but I was glad to know that I did not pay for the miserable stay.
We chatted for a few minutes and I told him that if he wanted to try again, I would be willing to come back and review the place one more time, as a sort of "do-over." He expressed interest and told me he would email me with availability for another night's stay – in a different room, of course.
He never did email me or make contact in any other way although I provided him with multiple means to do so. A little more than a week later I realized I didn't have all of the photographs I needed of Voyagers, so I went back to take a few more shots. The same manager was working and although he mentioned me as the "guy with the terrible room," he did not bring up the fact that there was an opportunity to do a review-over or that he had failed to contact me as promised.
Instead the manager talked with me for a few minutes about the man who stayed in the same room that I stayed in the night prior to my arrival. He said this man was a very large German who complained of not being able to fit on the bed and that his key did not work. He explained to me that at the time the man complained that his key was faulty, the staff assumed he just didn't know how to use it correctly.
But what really happened is that the battery in the fob or the door died during the German man's stay and was not fixed until I spent part of the night and morning outside wondering how I was going to get into my room.
After this lovely series of explanations and statements, Voyagers sealed their fate, in my opinion. They clearly do not take their guests seriously – to the point of mocking them in front of other guests – and the staff view customers as an intrusion upon their work.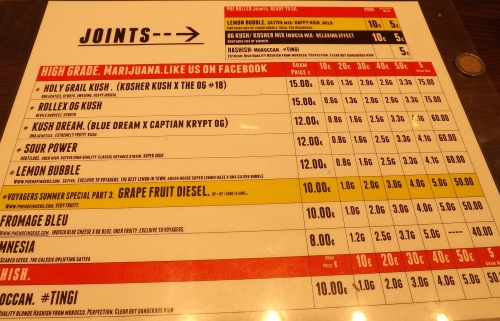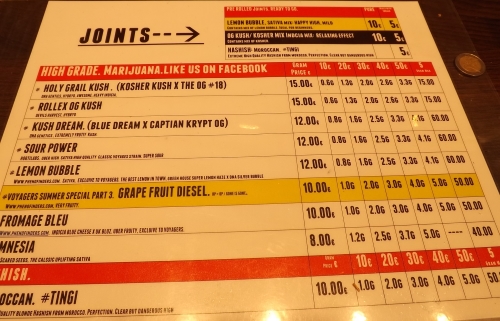 Voyagers Coffeeshop & Hotel: Marijuana Selection & Quality
One of the primary redeeming features of Voyagers Hotel & Coffeeshop is the unique selection of cannabis strains offered there; most importantly for my purposes the Holy Grail Kush. Voyagers had a particularly fresh version of this Holy Grail Kush, which is exceptional considering that many coffeeshops in the city carry highly commercialized, dry and lifeless strains.
Also on offer were strains such as Rollex OG Kush, Kush Dream, Sour Power, Lemon Bubble (exclusive to Voyagers. Genetics by Green House consisting of Super Lemon Haze crossed with DMA Silver Bubble), Grape Fruit Diesel, Fromage Bleu and Amnesia.
Voyagers also had a very small selection of hash – just one type called Tingi – which was actually quite mellow when smoked, compared to most of the hash I have had recently in Amsterdam.
Voyagers Coffeeshop & Hotel: Accessories & Extras
Voyagers has a small selection of the usual trinkets and accessories sold in Amsterdam's coffeeshops, including papers and filters, beverages and snacks, etc. They also offer a large selection of public bongs and implements for use in the club.
Voyagers Coffeeshop & Hotel: Staff
Overall I got the distinct impression that the staff at this business don't care much about guest satisfaction. While I certainly appreciated the refund, it was more like I was being paid off than anything, as the manager knew who I was and that I was there to conduct a review. I wonder what my stay would have been like if I had been perceived as a "normal" guest, such as this German man that was verbally bashed by no less than 2 different staff members at two different business locations within this organization…?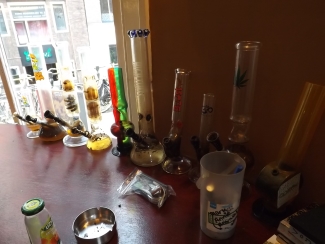 Conclusion
I don't recommend Voyagers Coffeeshop & Hotel unless there is nowhere else to stay in the city and all other nearby coffeeshops are closed. You can easily find better accommodations, better staff and wider marijuana selections at many other clubs and hotels in Amsterdam. I have rated it at 2 stars almost exclusively because the coffeeshop offers respectable marijuana and is conveniently located. With better trained and properly motivated staff, a cleaning and an expansion of offerings, there is considerable potential for this coffeeshop to rank highly. For now though, I will steer clear of this place and advise my readers to do the same.
Amsterdam Coffeeshop Review Rating for Voyagers Coffeeshop & Hotel: 2 of 5 Stars
[author-post-rating]
---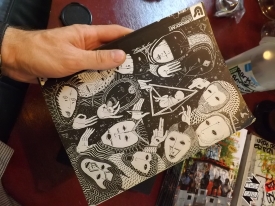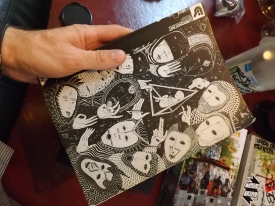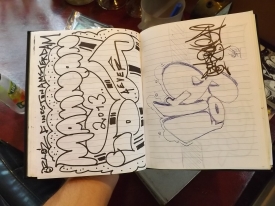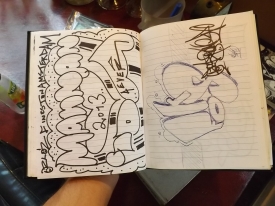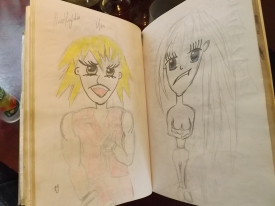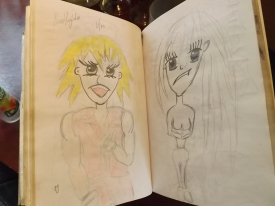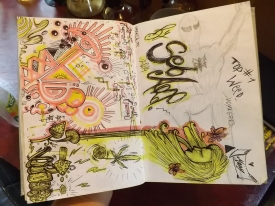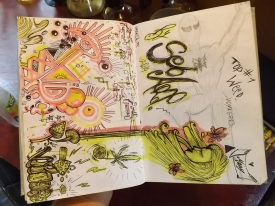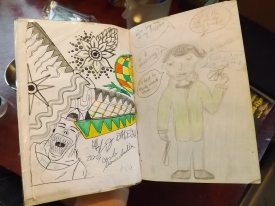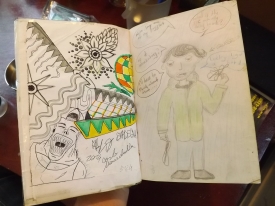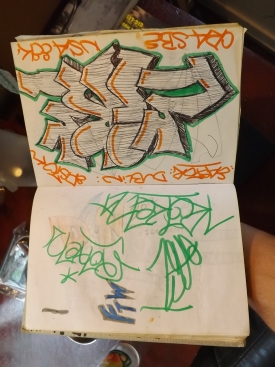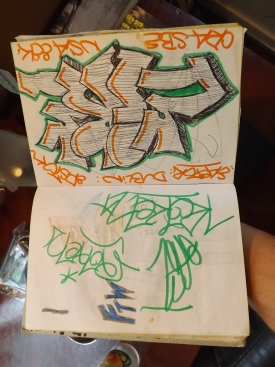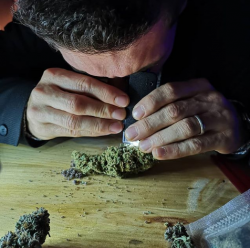 Latest posts by Russ Hudson
(see all)