A finely crafted cannabis strain, Silvia's Blue is actually phenotype #1 of LA Blue. However, Silvia's Blue is much stronger and longer lasting than LA Blue, making it a better candidate for various medicinal uses. This strain is a hybrid consisting of Blue Dream, LA Confidential and Chocolope, with some major differences between this phenotype and the one I wrote about earlier in 2014 in this strain review. Despite a considerable time spent in development, the newness of this strain means that it is exceedingly rare, so if you find yourself suddenly able to acquire Silvia's Blue, you should count yourself lucky.
MARIJUANA STRAIN REVIEW RATING FOR SILVIA'S BLUE: 5 of 5 STARS!
[author-post-rating]
Silvia's Blue: Look & Feel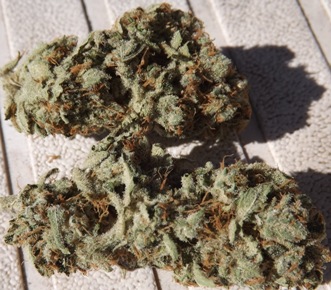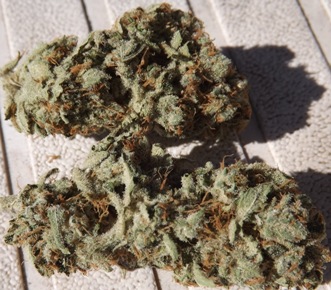 Silvia's Blue is a stunning and highly photogenic strain. This cannabis is heavily crystallized and is almost white in appearance at certain angles and in certain lighting. In fact, these buds are so thick with trichomes that I am reminded of Cream Caramel; one of the most densely crystallized strains I have ever seen.
The buds are mid to light green without the darker patches present in phenotype 2. However, the moderate mottling of dark orange hairs is approximately the same and well-distributed throughout.
Silvia's Blue is dense and sticky – when you compress a portion of a bud it does not subsequently spring back at all. It's best to use a grinder with this weed; otherwise your fingers will be a sticky but delicious mess.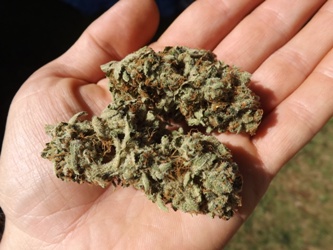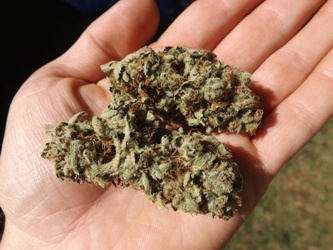 Silvia's Blue: Taste & Smell
From inside an open glass jar, this strain doesn't emit much of a scent, but what smell is there is a little bit like high quality, very dry hay with plenty of timothy in it. The scent of a bud up-close, however, is a little spicy, with some unidentifiable sweetness in there somewhere.
Highly pungent when you break it open, smells of white sage and oregano escape and dominate the senses; this is a crisp and airy weed with no diesel scent at all.
My overall impression is that this is an extremely "clean" strain where exacting cure methods were used.
The first hit was surprisingly expansive, so I had to show a little restraint on subsequent hits. With each there was a distinct but mellow chocolate flavor upon exhale; this lingers on the roof of mouth and back of the tongue. Earlier impressions of scent carried over into taste; this is indeed a very clean strain that leaves no nasty smoke aftertaste. However, it's unusual in that it's not at all spicy like the scent profile would seem to indicate. The chocolaty taste is dominant, with only the slightest hint of spice – sort of rosemary/oregano, and is not lessened by successive hits – a rare feature in any cannabis strain.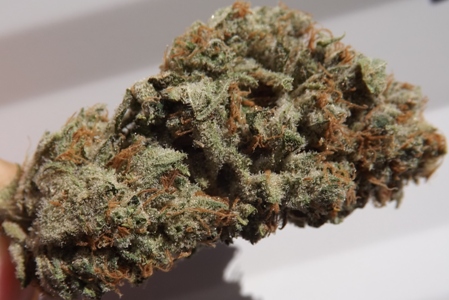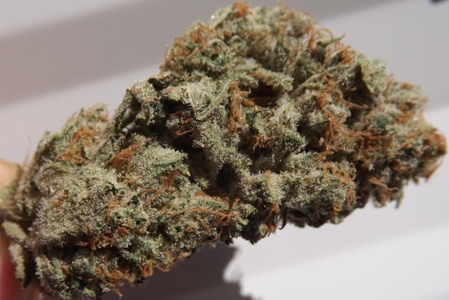 Silvia's Blue: Potency
After just one hit from a clean glass piece I immediately felt the high in the back of my neck and shoulders, while a pleasant buzzing started at the back of my head and quickly began moving forward. After a short pause this feeling continued spreading, creeping its way to the sides of my head and temples.
After the 2nd hit, the relaxed, undulating sensation in the back of my neck and shoulders increased noticeably. The effects began to move into my knees, buzzing there pleasantly and with a mild feeling of something that I can only describe as rejuvenation.
I was quite high at this point and could have stopped smoking and been satisfied. I began to get a little spacey and started losing focus.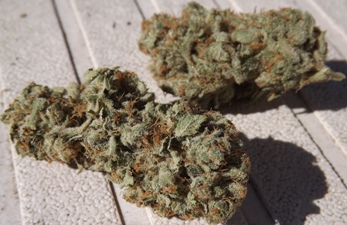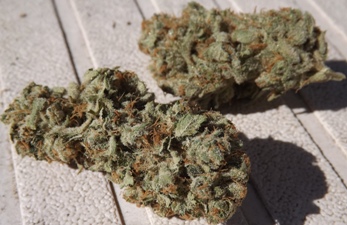 Strangely, my head wanted to take a nap, but my body felt invigorated.
After the 3rd hit the physical effects did not increase in intensity, but I could now feel the effects of Silvia's Blue in my calves.
I felt an urge to do something artistic, particularly to play my guitar, and the spacey feeling increased.
I definitely did not need to take the 4th hit at all and I almost opted to skip it. I was quite high, although I noticed there was not much of the classic swelling/closing of the eyes though. By now I could feel a pleasant buzzing in the palms of my hands and occasionally in my fingers.
After the 4th and final hit, I was completely stoned but still functioning, although I was higher than I have been in a long time. I felt a deeply satisfying "medicated" feeling in the front and back of my legs, my knees and the back of my neck and shoulders. This satisfied feeling contributed to a general feeling of sleepiness, complete with yawns in the middle of the day.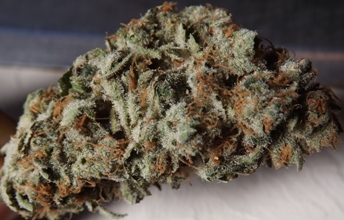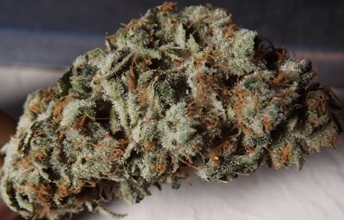 Silvia's Blue: Duration
I did not notice any significant creeping period (significant meaning, by my terms, a period of intensification lasting longer than 2-3 minutes). This weed hits hard and immediately, which is excellent for people who need their medicine to take effect right away. The overall duration for veteran smokers is likely 3 hours or even more, with strong lingering effects for up to 4 hours. In fact, this may be the longest-acting cannabis I have had this year.
For novice or occasional marijuana users, I would advise caution if you have something important to do within the half-day.
Conclusion
Silvia's Blue gives cannabis enthusiasts a little bit of everything; a great chocolaty taste, a light scent profile, significant musculo-skeletal effects, artistic inclination and one of the longest lasting highs available. If you're one of the few people on this planet to have tried Silvia's Blue, let us know what you think in the comments.
MARIJUANA STRAIN REVIEW RATING FOR SILVIA'S BLUE: 5 of 5 STARS!
[author-post-rating]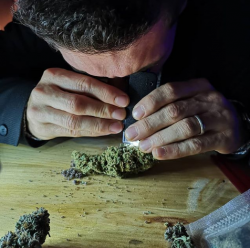 Latest posts by Russ Hudson
(see all)