An undercover policeman sat in the hallway of the Dragon cannabis club in Barcelona recently, posing as a tourist. When a legitimate member of the club, who for the sake of this article we'll call "Mr. Dean," entered the hallway and pressed the intercom button for admittance to the interior of the club, the "tourist" suddenly stood up, identified himself as a police officer and proceeded to question, badger and threaten Mr. Dean, eventually telling him that Dragon was being shut down and that he would need to go to a different club. This is just part of the continued crackdown on cannabis clubs in Barcelona.
Mr. Dean is a foreign student living in Barcelona for an extended period. He has a legitimate NIE, which entitles him to legally join and make full use of the city's cannabis clubs. The following is his account (in quotations) of exactly what happened when he went to the Dragon club near Las Ramblas during this summer's crackdown by police:
The club is inside a residence building, so there are 2 separate intercoms; one with the building main gate, then you enter to the lobby, where you find the door to the club with the second intercom. The building gate was open, as it often was, so I went through, there was a guy reading a magazine in the lobby, I didn't really pay attention though.

When I rang the club's intercom I noticed it wasn't working, then the [man reading the magazine] approached me, said he was police and wanted to ask me some questions, and in a matter of seconds 2 other policemen joined him. Funny thing is, none of them were in uniform, they looked exactly like tourists, so I'm sure they were just ambushing people.

They asked me if I was a member, I said yes because there is nothing wrong with [me being a member], then they asked for both my NIE and the club's [membership card]. Initially I refused, but then they threatened me to take me to the station for questioning, they said that it was better for me to cooperate. I gave them what they asked for and I noticed one of them was looking through a list with my NIE at hand, but I couldn't see what was about, what I know is the list was at least 4 pages long.

Their attitude was very hostile at this point; they said to one another "let's take him to the station, it'll be easier" and [they] turned towards me [and asked] "Is that what you want? Do you really want that?" I know this was likely bullshit, but then again I'm a foreigner, if they decided to take me in probably no one would give a shit. So ultimately I didn't want to take any chance so I gave them my documents.

After they told me I could go, one of them yelled "if they don't want to open the door FINE, sooner or later they will come out and we're going to be here, cowards!" referring to the club's staff. It's the only thing I remember clearly, especially the word "cowards" because I thought it was way out of line. However, it is unclear to me if there was anyone at the club at that moment or if it was empty, I just left as soon as [the policemen said] I could.

Finally the guy with the list said something like "he's not here" to the other, and they said I could go, and that I should join another club and don't come back to this one because it was under investigation and it will remain closed.
Mr. Dean's story is becoming all too common in Barcelona since the crackdown began in June, culminating with the closing of at least 1/3 of the city's clubs in mid-August. Other legitimate members have been harassed and ticketed when found with marijuana, including this story about a man who was clearly watched by police while inside a certain club, then accosted and harassed, publicly humiliated and fined by police for possessing the cannabis he had legally acquired.
Meanwhile, the cannabis club industry in Barcelona awaits legislation as prepared by the Ministry of Health, which includes disallowing new members to acquire any cannabis products at all for the first 15 days of their membership. This is primarily in an effort to stem the flow of media articles and other mentions of the city as the "next Amsterdam;" a title that city administrators are disgusted by.
Other pending rules include limiting the clubs to no more than 500 members each, severely restricting hours of operation, and requiring members to order and pay for the cannabis they require just once per month. This rule in particular seems to be setting club members up for harassment, citations and possible arrest, considering that when members leave the club with their medicine, they are considered in public space and subject to search and seizure. Considering that the monthly maximum allowable amount is 98 grams, this means that members who are forced to resupply once per month will suddenly be acquiring and transporting to their homes a criminal amount of marijuana.
Have you been caught up in the chaos that's happening in Barcelona?  Let us know in the comments.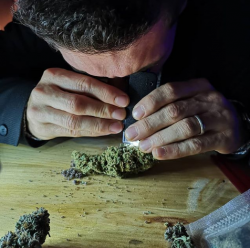 Latest posts by Russ Hudson
(see all)