LaConte's Clone Bar and Dispensary on Washington Street in Denver is one of the city's best dispensaries. Serving both medical and recreational users, LaConte's offers premium cannabis clones, high-grade flower and a good selection of edibles, goodies and accessories. Located at 5194 N. Washington Street not far from the Denver Mart, LaConte's is generally a quieter location to visit than many of Denver's other more centrally-located dispensaries. Dank weed, knowledgeable staff and a beautifully crafted and decorated environment awaits those who visit this outstanding 5 Star Denver dispensary.
Denver Dispensary Review Rating for LaConte's Clone Bar & Dispensary: 5 of 5 Stars!
[author-post-rating]
LaConte's: Environment
On the outside, LaConte's basically looks like what it once was; a Western-style saloon – minus the numerous "medical cross" signs on the front and sides of the building. During the time that I was in Denver, LaConte's had an armed guard manning the outside door. He asked to search my backpack when I approached, which was surprising. I asked him why the dispensary wanted to have my bag search and he replied;
"To keep things they don't want in out."
"Like what?" I asked.
"You'll have to ask inside."
The guard held the door open for me and I stepped inside. Once across the threshold another armed guard stopped me and asked for my ID. A little perplexed by this time at the armed presence, I handed it over and got in line after his approval.
The LaConte's on Washington Street that I went to didn't look much like the pictures shown on LaConte's website. As you enter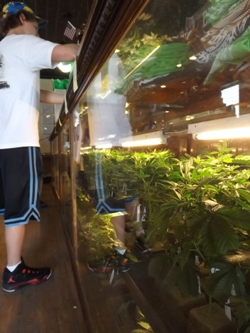 there is a long counter space that runs nearly the entire left side of the building. The first 2/3 of it are recreational sales stations, while the final 1/3 is a large medical sales station and waiting area. To the left are beautiful wood and glass display cases where dozens of healthy-looking clones are featured. I took a few photographs but was quickly reprimanded by the security guard; apparently, you cannot photograph anything that is on the medical side.
As the line moved up I was surprised to see another armed security guard at the front of the line. 3 fully armed security guards in one relatively small shop? I found this to be strange and unnerving. Of the many dispensaries that I visited in Denver, only LaConte's had armed guards, and they had 3 of them. Now, the only reason to have that much of an armed presence is to deter robberies or acts of violence. This leaves patrons to assume that LaConte's considers this to be a serious risk.
However, if LaConte's doesn't think armed robbery or violence is a serious risk, then the presence of armed guards just looks bad. And after all the years of oppression in regards to marijuana, the last thing I think any cannabis user wants to see is three guys with guns searching your stuff, questioning you and making an apparent show of force at all times. Of course, if the guards were absent and some douchebag came in shooting the place up, I'd probably wish they were there. But this is a risk virtually any time you do business elsewhere, and the vast majority of businesses do not have armed guards on staff. So the fact that LaConte's does is statement that a marijuana dispensary is not a typical business; to the contrary – it is one that requires multiple armed guards.
The only other argument that could be made is that, during the week I was in Denver, the High Times Cannabis Cup was being held at the Denver Mart. So if the security was hired only to cover the high traffic from such an event, it still makes a statement that the influx of 30,000 or so people who went to the Cup were not a trustworthy group, or that they were a vulnerable group that needed extra protection from robbery and violence.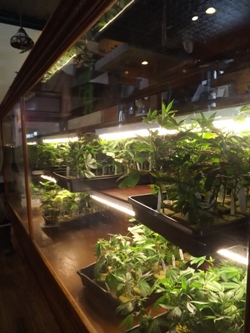 Regardless of how I analyze the situation, I come to the conclusion that – in my opinion – the armed guards were not appropriate. Would the presence of armed guards searching my bag prevent me from going to LaConte's again? Yes. Given the choice of a dispensary where I can walk in like a normal customer at any other business, purchase my marijuana and leave, or one where I am questioned and searched by an armed guard on the outside, and then another guard on the inside, then that's really no choice at all.
I hope that LaConte's has some logical response about the armed presence, because other than this the place is incredible. There are brightly-lit menu boards that clearly allow you to see what's available, and tons of edibles and other specialty items are on display in various tasteful racks and glass cases.
The floors and walls are all wood and are tastefully preserved, and the ceilings are made of polished tin that will have you craning your neck to marvel at. Overall LaConte's has created a unique impression that you've stepped back in time to find they were using modern technology back then. It's actually pretty cool; too bad like most Denver dispensaries you can't sit down, have a smoke and chat and relax, because this would be a really sweet place to hang out.
Ultimately LaConte's is clean and extremely appealing – there's character in that building and the owners have done a great job allowing that to shine through while still providing a modern service. Although some might find the location out of the way, I actually prefer it because the parking is easier and you don't have the headache of dealing with the hustle and bustle of downtown Denver.
LaConte's: Marijuana Selection
On the day that I visited LaConte's on Washington Street, the dispensary only had 6 strains of flower available, but the crowds from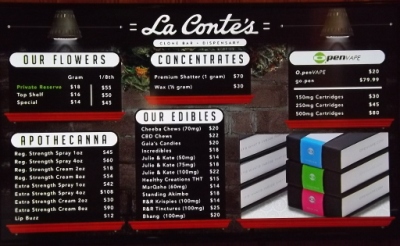 the Cannabis Cup and 4/20 festivities were causing nearly all dispensaries in Denver to have supply glitches, so I think this was normal for the stoner's holiday week.
I don't care for Sativas so I didn't pay too much attention to them; they offered Jah Kush, Chem Dawg and Killawatt. On the Indica side, the strongest strain they had at the time was White Widow, which isn't very strong at all, in my opinion. I bought some Killawatt and Sour Diesel, intending to make some "salad joints." But instead I smoked the Killawatt at the Cup so all of it was gone before I could make salad or do a review of that strain. However, I did get a review in for the Sour Diesel, so grab my RSS feed in the top right of the site's header to get updated on that strain review when it is published.
LaConte's: Accessories & Extras
LaConte's Clone Bar & Dispensary has a wide selection of marijuana-themed products and accessories. From T-shirts and hats to nearly every type of highly potent edible you can dream up, LaConte's is definitely a one-stop kind of shop.
In addition to the raw flower, LaConte's also offers hash, wax, bubble hash, infused beverages, and live clones from an astonishing list of strain types. To check their current stock, prices and availability, please check LaConte's website at: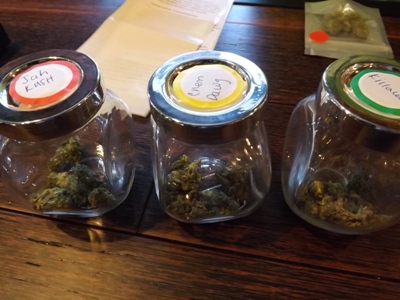 LaConte's: Staff
LaConte's staff is highly professional and spends a significant amount of time with each customer, providing valuable and accurate advice when requested, but leaving more veteran shoppers to "do their thing." I spent more than an hour at the shop on a gorgeous Sunday in April, and it was clear to me that the staff is responsible for the success of LaConte's. They have handily blended just the right amount of fun and quirky with professional and motivated to create an especially personable environment where it's almost as much fun to watch other patrons gush gleefully over all the cool stuff on offer as it is to get your hands on some of it for yourself.
I chatted a bit with a young man and woman working the counter closest to the door, and they hooked me up with a sweet T-shirt for free…although admittedly everyone who walked in the door that day got a free shirt. 😉
Interestingly, I had recently interviewed a local Denver attorney about a meeting of Denver area lawyers regarding the banking situation and cannabis dispensaries. Essentially, Denver's dispensaries do not have legitimate access to the federal banking system, which means that many dispensaries struggle with severe challenges as a result of this. But LaConte's had an ATM on-site, and they accept credit and debit cards. I asked the guy behind the counter how this was possible, and he told me that LaConte's is registered with the city (and has been since its inception) as a T-shirt store. Therefore, they are not held back by the same restrictions as the dozens of dispensaries that are exclusively that – cannabis dispensaries.
This reminds me a lot of ASG Gifts in Amsterdam. The company primarily sells cannabis seeds, but they are registered as a gift shop and so have been able to peaceably operate for years under this arrangement.
Ultimately I have to say that the staff at LaConte's appeared more invested in the education and satisfaction of their customers than any other dispensary in Denver, and as a result I have to award this shop with a full 5 Stars, despite the armed guards.
Conclusion
LaConte's Clone Bar & Dispensary is an excellent 5 Star Denver Dispensary that has already become a landmark fixture in the city. A progressive place, I see LaConte's as being able to readily adapt to any changes in the cannabis industry that may come, but let's hope that the days of Prohibition are over forever for this revered historic Denver building.
Have you been to LaConte's on Washington Street in Denver? Let us know your thoughts in the comments below!
Denver Dispensary Review Rating for LaConte's Clone Bar & Dispensary: 5 of 5 Stars!
[author-post-rating]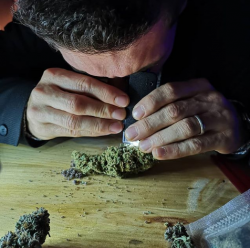 Latest posts by Russ Hudson
(see all)