Rumors are circulating that cannabis in Madrid, Spain, is literally full of shit, and, like many juicy stories, there's a small degree of truth to what's being said. However, it's easy to understand why some people might raise a suspicious eyebrow at these reports, which are all 100% based on a doctoral thesis published in the scientific journal Forensic Science International, before the work was defended by its author and examined by the reviewing institution. I investigated the articles and the study at the center of these stories, and spoke with the lead scientist, Manuel Perez Moreno. The information that I found clearly indicates that – for the most part – it's not the cannabis in Madrid that's full of shit; it's the media.
The Hype – "Bombshell" News Articles and Stories
On April 2, media outlets around the world began publishing a slew of articles with titles like "Most cannabis sold on streets contains faecal matter, study finds," "Street cannabis 'contains dangerous amount of faecal matter," "Study: Fecal matter found in majority of street cannabis in Madrid," and "Poo traces found in majority of cannabis sold on Madrid streets."
Most of this reporting has been irresponsible at best, and deliberately twisted at worst.
These articles were all based on a single study that was published online on March 5th in Forensic Science International, although the print version of the study was not published in FSI until May 2019. During this time, media outlets ran with the story, even though the work has not been defended by its author, nor examined by the reviewing institution, Alfonso X el Sabio University in Madrid, as of the publication date of this article (May 27, 2019). In an email to this author dated Thursday May 23rd, Moreno explained that in the European Union, this practice is actually required of science and medical doctoral candidates under the Bologna Process (a higher-education series of agreements and ministries between EU member countries); doctoral candidates must be published before they can be considered for an official doctorate.  Moreno also stated that because he has not defended his doctoral thesis yet, he has not granted any interviews to the many journalists who requested one.  Therefore, every word that has been printed on the matter thus far has been without the feedback or collaboration of the author.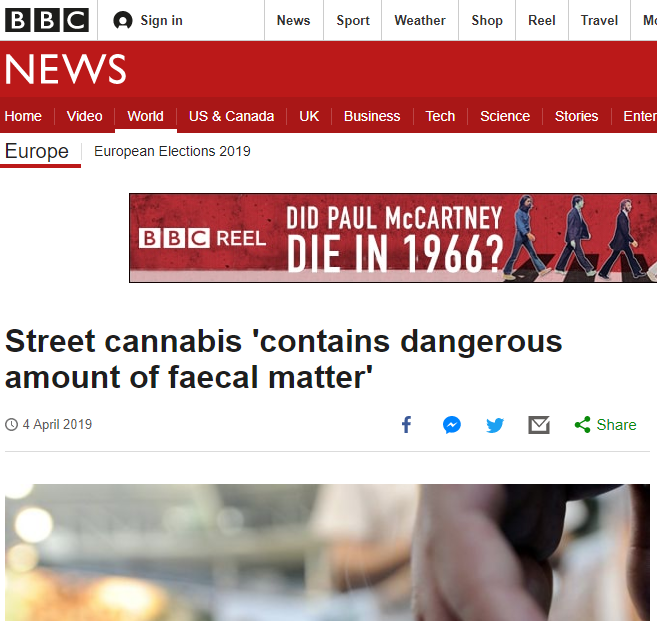 Sadly, the sensationalist stories printed by media outlets like El Pais, BBC, The Independent, and many more spawned rumors throughout the city of Madrid and beyond that cannabis being sold in the region is unfit for human consumption. However, most of this reporting has been irresponsible at best, and deliberately twisted at worst.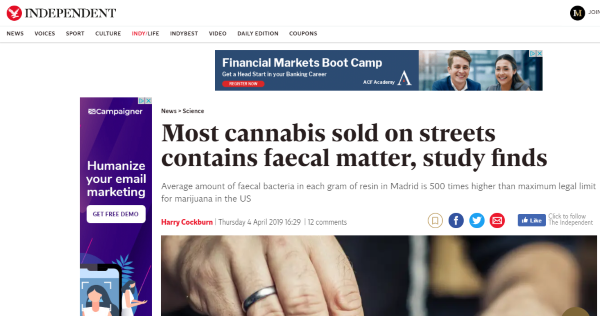 Direct from the Study – Cannabis Resin in the Region of Madrid
Doctoral candidate Manuel Perez Moreno used his own funds to purchase 90 samples of traditional street hash over the course of 12 months. He and his team made these purchases directly from black market street dealers in the north, south, east, and west parts of Madrid and the immediate vicinity. The samples were preserved and prepared according to accepted scientific protocols; please see the entire methodology of the study here: https://www.sciencedirect.com/science/article/pii/S0379073819300751. Hash samples were then tested for contaminants using several methods, most of which were carried out in triplicate. Moreno and his team concluded that:
Many samples exhibited a distinct smell of feces
75 % were heavily contaminated with E. Coli bacteria (commonly lives in the human gut and is often associated with fecal contamination)
The fungus Aspergillus spp. was found in 10% of the samples
Tests for contamination or adulteration with glass, opiates, amphetamines, henna, talcum powder, and pine resin were carried out, but none of these substances were found in any of the samples tested. However, nearly 7% of samples tested positive for contamination with glucose/sucrose (this is an adulterant meant to artificially improve the appearance of cannabis products).
Overall, Moreno's study was simple, tight, and conclusive. But it wasn't about "cannabis" or "marijuana," as the media reported. The study strictly dealt with traditional hash purchased from black market agents on the streets of Madrid. Not one of the 90 samples analyzed consisted of dried cannabis flower (marijuana), kief, water hash, shatter, or any other cannabis products whatsoever. In fact, the researchers involved did not even acquire or test a single sample of traditional hash from any of the 100+ private cannabis social clubs in Madrid.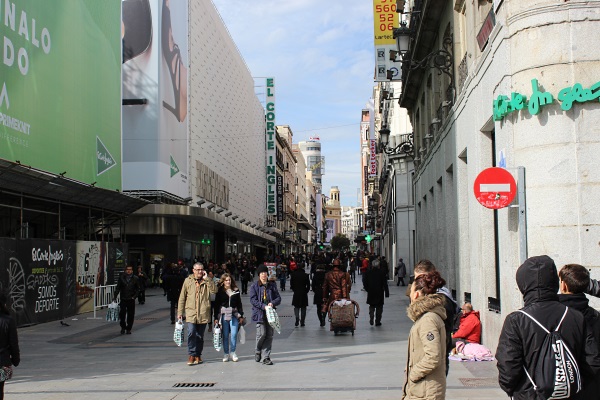 Clearly, Moreno – a veterinary doctoral candidate – doesn't have direct experience in the cannabis industry to understand the implications of his recent work as presented. From the study;
Therefore, the results of this study could be considered representative of the characteristics of hashish sold in this region of Spain.
Unfortunately, this statement is not true. Moreno and his team only acquired hash from black market street vendors. This type of hash is usually produced in India, Morocco, Afghanistan, and Pakistan, and is smuggled into Spain from these countries and intermediates. Smugglers either ingest small packets of hash, or they insert them directly into their anus, and then expel the packets later. As Moreno noted, this is precisely why 75% of the samples he analyzed contained significant amounts of E. Coli.
Moreno's words quoted above – which have been echoed by media outlets around the world – naively assume that his team analyzed the only type of hash in the region of Madrid. In the massive cannabis social club industry in Spain and beyond, we know this isn't true. In fact, most of the hash, extracts, and concentrates available at dozens of social clubs in Madrid are produced locally. There is no need to hide hash or other cannabis products in the intestinal tract or anus; movement of cannabis products is actually quite free (comparatively speaking) in the country when carried out in relation to the private cannabis social clubs.
Additionally, many of the characters engaged in the production and smuggling of traditional hash work together for the same black market employers. For instance, in both Barcelona and Madrid, black market hash dealers station sellers with small amounts of hash at nearly every block, usually within sight of each other. They work closely to keep out the authorities, and, perhaps even more to the point, all sources of competition. Therefore, it seems likely that of the 90 samples of street hash Moreno and his team purchased, some of them were probably from the same feces-contaminated ass-batch.
Interestingly, traditional hash is available at most of Madrid's cannabis clubs. Board members acquire this type of hash on behalf of their members because it has been on the market for more than a century, is used culturally, and because the product is cheap and usually effective. This type of hash is considered the lowest-grade hash available, and is likely acquired from similar sources as those used by Moreno. Unfortunately, samples of traditional hash from cannabis clubs were not included in this study.
The Media Spin
The media ran wild with Moreno's work, with many outlets negatively spinning the story, using the research to slam cannabis and marijuana in general. Even thousands of miles away in the social-democratic U.S. State of Vermont – where cannabis is mostly legal – journalists and editors twisted the story, like this headline and first few paragraphs copied below from WCAX 3 in Burlington, Vermont;
Fecal matter found in majority of street cannabis in Madrid
"A study found most marijuana sold in Madrid, Spain, is not suitable for human consumption, creating a possible public health issue in the country.
Researchers tested 90 samples obtained in the Spanish capital and found that 88 percent was contaminated with harmful bacteria found in fecal matter.
Their findings were published in the journal ScienceDirect.
Manuel Perez Moreno, a co-author of the study, told El Pais, a Spanish newspaper, cannabis contamination may be a result of how the drug makes it into the country."
[From: https://www.wcax.com/content/news/508170382.html.]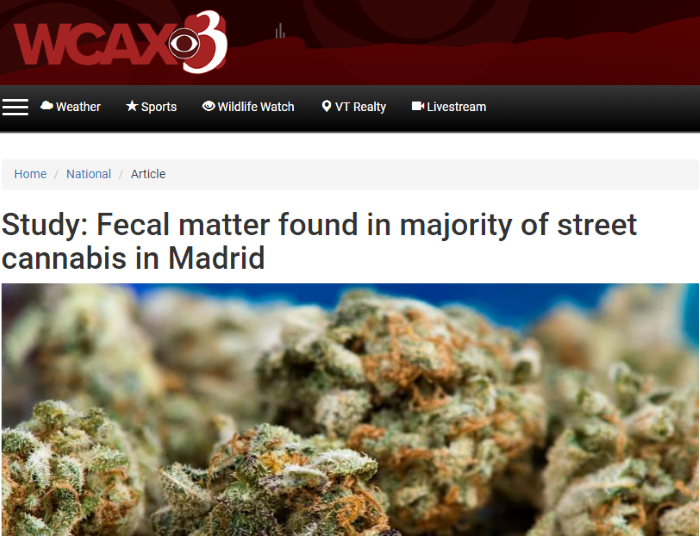 The preceding passage is a powerful example of irresponsible journalism. The title and first 4 paragraphs of the story deceptively inform the reader that "cannabis" and "marijuana" in Madrid is contaminated and unfit for human consumption. But the fact of the matter is that Moreno's study dealt exclusively with traditional street hash. The researchers did not collect or test any other types of cannabis products from any other sources, and the language of the study makes it appear likely that the authors were unaware that there are many types of hash and other cannabis products available in Madrid.
As a study, Moreno's work seems solid, although not all of his conclusions were accurate or adequately informed. Had his work been titled "Traditional Street Hash in the Region of Madrid," instead of the title he actually used, "Cannabis Resin in the Region of Madrid," the study would be much more accurate. From the standpoint of an editor (and more importantly, an editor in the cannabis industry), the study's content does not deliver on the promise made in the title. That's because "cannabis resin" can refer to several different types of hash. For instance, this author's cannabis product of choice is iceolator, which is also called water hash or bubble hash. Iceolator is widely available in Madrid, but Moreno and his team didn't study any of it. This is a significant oversight considering that most trim and other byproducts of the majority of cultivation operations in Spain are used to make bubble hash.
Nevertheless, it should be noted that Moreno's oversights were those of an honest scientist studying a product tied to an industry that's poorly understood. The underhanded and erroneous reporting of this study by the media, however, is inexcusable. The major takeaway here is that Moreno's study is about traditional street hash in Madrid; it's not about "cannabis" or "marijuana," and it's not representative of any cannabis product in Spain other than traditional street hash. Most of the cured flower, specialty hash, and other cannabis products available in Madrid are not at all comparable to what Moreno and his co-authors studied.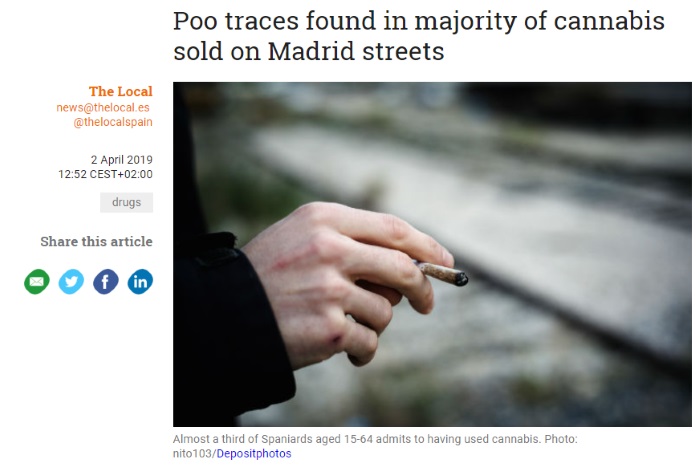 Ultimately, this means that if you don't want a literal load of crap in your hash, then don't buy street level pressed hash in Madrid. Instead, become a member of one of Madrid's flourishing private cannabis social clubs, and stick to higher hash products like bubble hash, iceolator, jelly hash, filtered kief, finger/scissor hash, extracts, concentrates, etc. After all, the cannabis clubs in Spain were developed specifically to allow consumers to avoid the black market. With Moreno's study in hand, we can now tell street level hash dealers to shove their product back up their ass.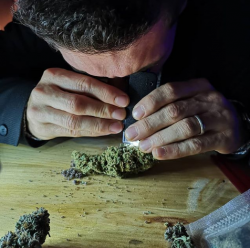 Latest posts by Russ Hudson
(see all)