Belveda is a small and comfy cannabis social club, located to the northwest of Barcelona's city center. The name of this neighborhood is El Guinardó, which is situated in the Horta-Guinardó district; a quiet, suburban, and family-friendly area.
This Barcelona cannabis club opened approximately four years ago, and even though its location is far away from the touristic chaos of Las Ramblas and Plaza Catalunya, it's well placed near yellow line (L4) metro station of Guinardó – Hospital de Sant Pau. Belveda is one of the best choices for cannabis enthusiasts looking for a respectable place to chill.
Belveda: Environment
This cannabis social club, situated just a few blocks from the Modernista masterpiece of The Hospital de la Santa Creu i Sant Pau, it is an easy-to-find place; the street is quite short, and you can tell very easily by looking at each shop which one is the correct one. 😉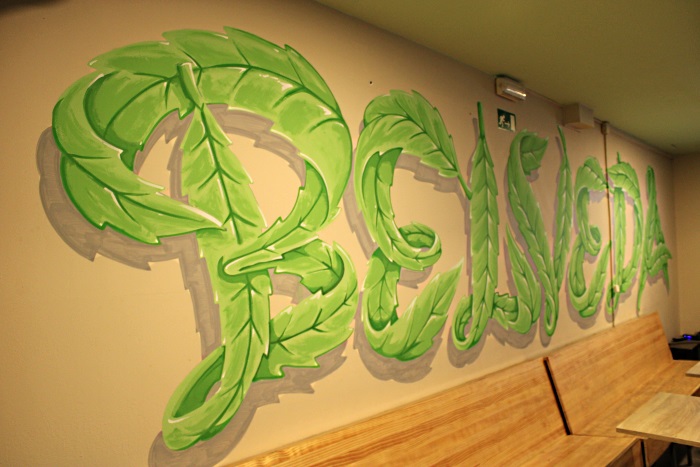 The entrance of this marijuana smoking club is like many others in Barcelona; one glass door with a buzzer that takes you straight to a tiny room where the staff verify your identity first. After passing the authentication stage, you must go through another door where all the magic actually happens.
Right after you open the second door, you will find the dispensary; it is not a big one, but it has everything you need to enjoy your time there.
Belveda offers one big area with plenty of seating zones; if you look to your right, you can find a long wood bench with four square tables for those looking to read, work, play games, or just for rolling joints and socializing. On the wall of this side of the club, there's a large mural that says "Belveda" made of marijuana leaves.
If you look to your left, you will find a plush couch with a big flat screen television, a few tiny round tables for two, and a large table with chairs. On this wall, you will see a massive psychedelic print of a tiger surrounded by palms, leaves, and flowers.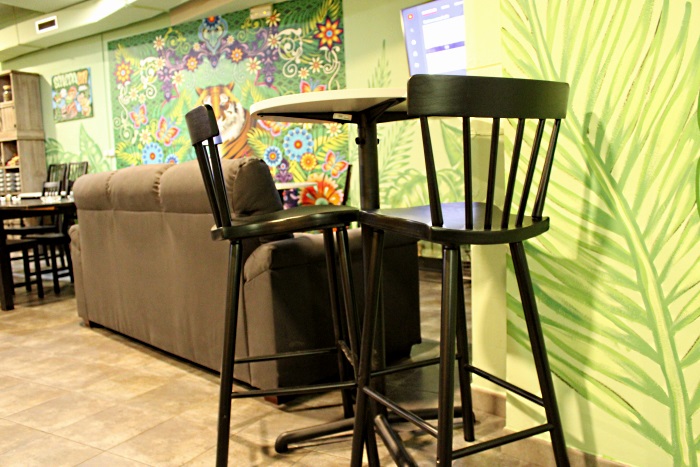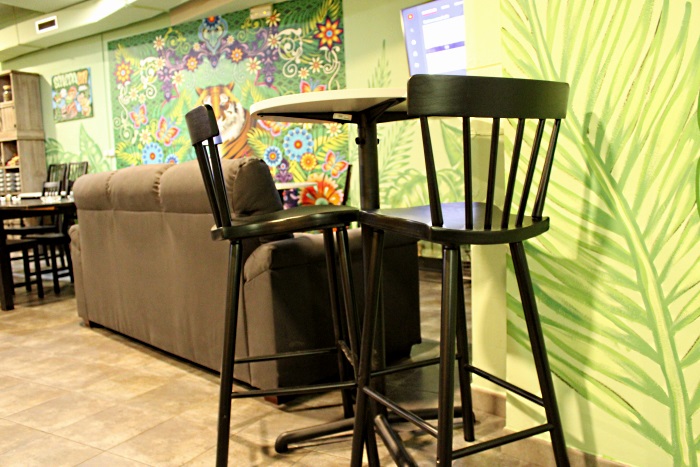 One last thing which is important to mention is the impeccably clean bathrooms they have to offer.
Belveda: Cannabis Selection
Belveda cannabis club offers a wide variety of strains; around seven or eight indicas and the same amount of sativas, while in the hybrid category they usually offer a maximum of three types of buds. The top sellers are often the cheapest strains, including Critical, Amnesia, Gorilla Glue, and Purple Punch.  
This marijuana coffee shop also offers different types of American strains – specifically from California – such as Gelato, Wedding Crasher, and Larry Bird.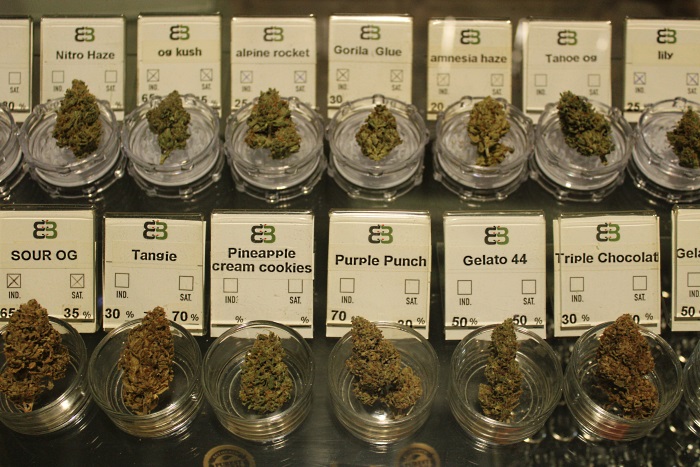 Pre-rolled joints mixed with tobacco and without are available, the ones only with marijuana vary depending on the strain they have available on that day of the week. Other unique products include Gorilla Wax (BHO), Neville Haze (Iceolator), and Gorilla Glue #4 (Dry Sift).
The hashish choices include Maroc, Polm Gold, and Barbara, which is hand-made in Spain. The club also offers edibles including gummies, brownies, and potent cookies.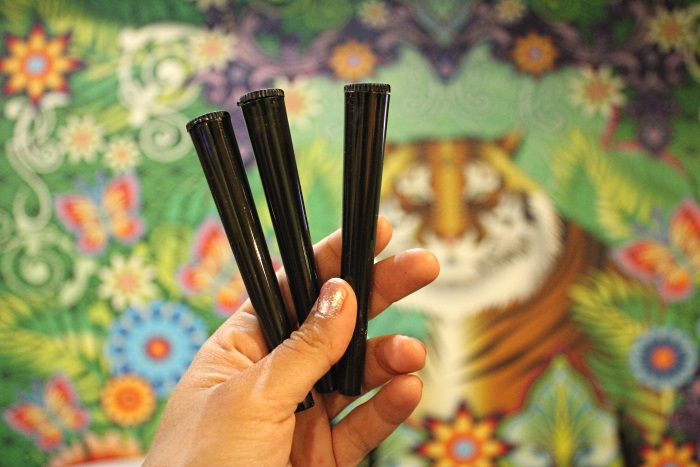 We acquired a pre-rolled joint without tobacco of Purple Punch, as this strain is particularly popular in Spain, and our tester was delighted with the sample, reporting it to be perfectly representative of the strain, with a powerful aroma and a heady buzz.
Belveda: Staff 
Staff at Bleveda Barcelona is small and closely-knit; three of them have been working together for more than thirteen years, which means they know each other well.
The multitasking budtender / receptionist is a yogi person; I could tell she was in good shape. She was telling me about some charity yoga sessions she hosts at different locations and then donates the money to different causes; the last contribution was to send out food and medicines to Venezuela.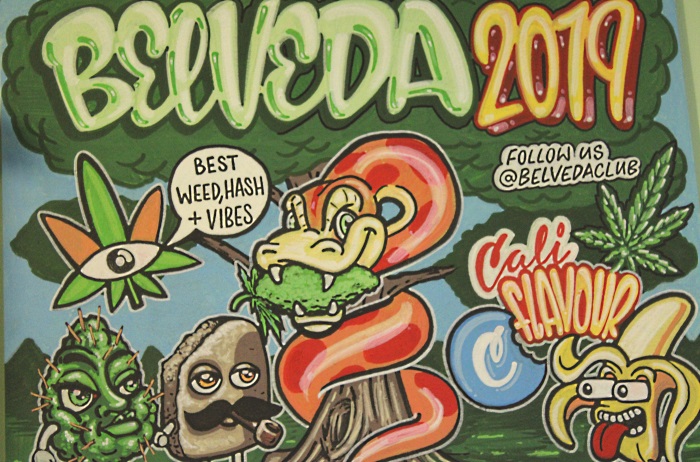 The staff here are friendly and always smiling, and, unlike at some other clubs in Barcelona, they'll actually check on you occasionally to make sure you've got everything you need. They're fully committed to expanding the world of cannabis, and making sure every member is treated like family.
Belveda: Events & Extras
Belveda doesn't have many events planned at this point, but they're working on organizing afternoons of cinema or documentaries.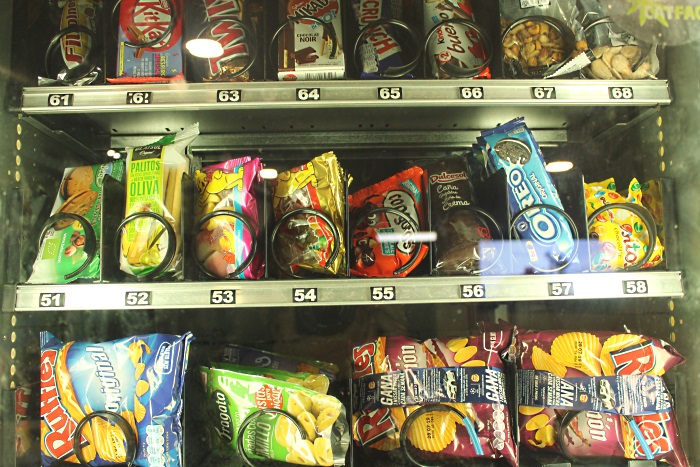 Every Thursday, the members of this private Barcelona social club get together to play poker (no betting), and some Fridays of each month an African band comes to play chill tunes.
Conclusion
Belveda is a members-only Barcelona cannabis club in the true tradition; it's perfect for people who live outside the city center, or for those who want a new experience in the city.                                                                                     
Have you been to, or are you a member at Belveda? Let us know your thoughts about this Barcelona smoker's club in the comments section below!
Latest posts by Rachel Clark
(see all)