Green Shot cannabis club in Madrid is one of the best-kept secrets in the capital of Spain. Comparable to the speakeasy style of the famous Dr. Dou marijuana club in Barcelona, Green Shot features multiple tastefully-adorned levels where members can gather and commune. In fact, Green Shot has a thriving but exclusive member community, making it one of the most desirable of Madrid's cannabis social clubs.
Madrid Cannabis Club Rating for Green Shot: 4 STARS!
Green Shot: Environment
Spread over two levels, Green Shot cannabis club offers space for everyone. On the upper level, a bright reception area welcomes members. Deeper into the club's top floor are vending machines for snacks and drinks, and a table from which to enjoy them. Nearby is a small television, and not far from this area is the club's disabled bathroom, which complements its wheelchair-accessible entrance. Green Shot has made sure that all members are able to access the club.
A door quietly sits at the back of this upper area; open it and descend into the bowels of the club, where most of the social activity takes place, serviced and inspired by products from the cannabis dispensary that awaits members here. In this inner sanctum, members will find plenty of tables and chairs to roll joints and play games on, as well as stools and comfortable low-lying seats – all of it tinged with a psychedelic vibe.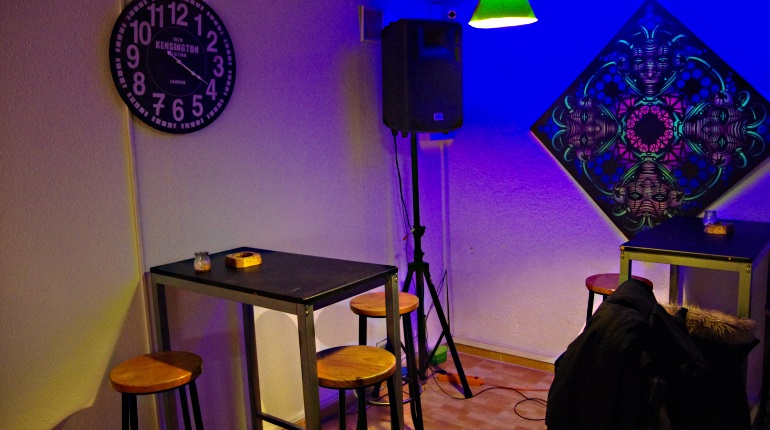 On one wall is a huge projection screen where movies, games, and music videos are played, and for live entertainment, a small DJ booth sits nearby. Near the back are a couple more tables from which members can enjoy the free Wi-Fi offered by the club, and at the far back is the dispensary; more on this in the next section.
Down in this area members will also find not one, but two more bathrooms – a rare find in a cannabis club, as space is usually quite limited in Spain's large cities. At Green Shot club, this isn't a problem.
In addition to the vending machines on the first level, the inner sanctuary of the club also features a bar, where members can enjoy fresh smoothies and juices, coffee, tea, beer, wine, and other goodies.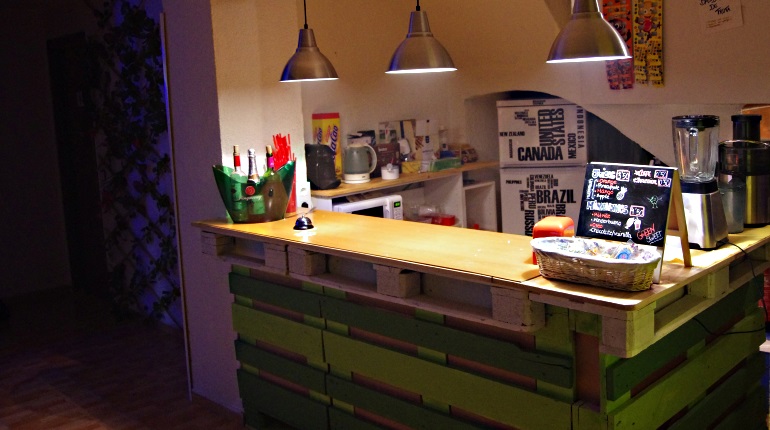 Green Shot: Marijuana Selection
Green Shot offers its members several types of indica, sativa, and hybrid cannabis flowers, including strains like Harybo, Hawaiian, Pakistan Valley Purple (some of the most purple-colored weed we've ever seen), Shark x AK 47, Amnesia, and Lemon. The club also boasts a respectable collection of hashes, including traditional hash like Super Silver, Hardala, OG Kush, Nikol, Candy, and Cheese. Additionally, Green Shot has traditional charas, and one type of iceolator (bubble hash for you Americans); Amnesia at 38 microns, or 70 microns.
Green Shot's cannabis dispensary also features vape pens and supplies, so make sure to ask the budtender for what you need, as not all products are visible.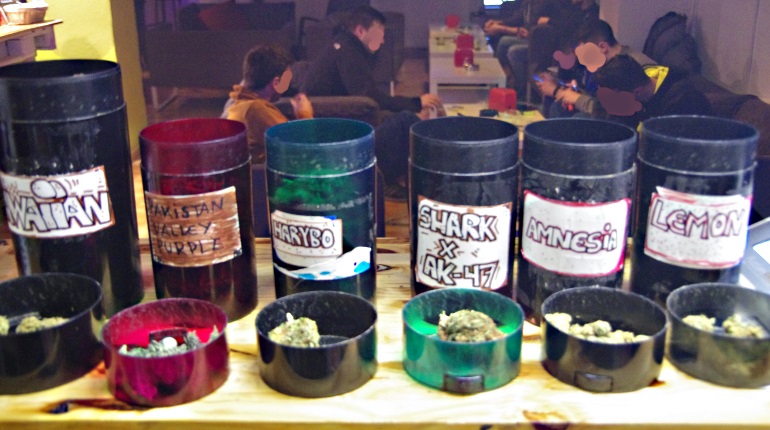 Green Shot: Events & Extras
In addition to a room full of vending machines and a bar stocked with drinks and snacks, Green Shot also offers its members standard cannabis accessories like rolling papers, tips, numerous bongs for public use, grinders, lighters, etc. Need something, but don't see it? Just ask one of the club's staff members, who'll be happy to help.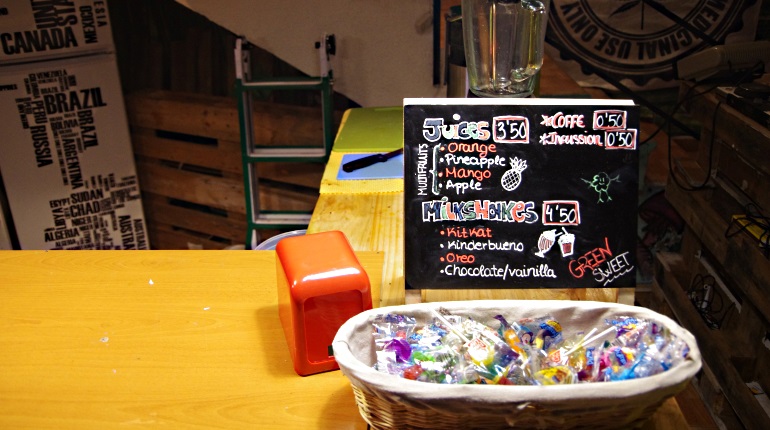 Green Shot: Staff
Green Shot is managed by an ambitious, friendly, and energetic team, led by a well-connected and driven President. Confident and proud of the cannabis products and environment they make available to members, the team truly is a friendly extension of the member base; it's that kind of club. Accommodating and genuinely happy to serve other members, this author has received more positive feedback about the staff at Green Shot than about any other cannabis club in Madrid.
Conclusion:
Located outside of the direct city center, Green Shot offers a place where members can escape the din of Madrid and find warmth and connections among the club's socios. With an ample offering of well-curated cannabis products, Green Shot is beginning to rival even some of Barcelona's top marijuana social clubs. Are you a member at Green Shot? Let us know your experience in the comments section below!
Madrid Cannabis Club Rating for Green Shot: 4 STARS!