The Violator Kush marijuana strain is comparable in potency to other Kush varieties I've tried like Pineapple Kush, Afghan Kush, Cranberry Kush, OG Kush and Gold Kush, but it definitely lacks the delicious flavors of these other varieties. Overall it's an excellent Indica-dominant hybrid, but though others claim it has superior medicinal properties, I disagree unless you're talking about pain located in the head or neck. Violator Kush does not provide a high that extends below the neck, so if you're looking for this property in a medicinal marijuana strain, move along. But if you want a strong and long-acting Kush strain to get high on while remaining physically active, this might be exactly what you need.
Marijuana Strain Review Rating for Violator Kush: 4 of 5 Stars
[author-post-rating]
Violator Kush: Look & Feel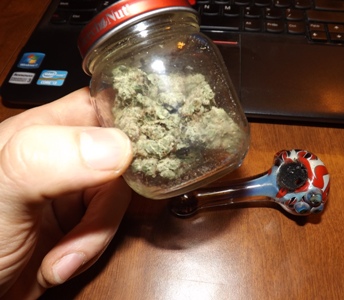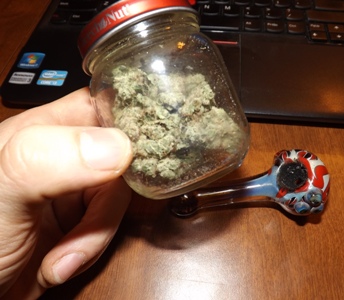 The Violator Kush marijuana strain is one of the more heavily crystallized Kush strains that I've had the pleasure of smoking. Despite this, the couple of buds I acquired were not really sticky at all. In fact, they were a little dry.
Overall the buds were only slightly compact and crumbled with just a little pressure from the fingertips.
This strain reminds me of Cream Caramel because the heavy, consistent crystallization gives the buds a light green appearance that virtually fades to white. It's a visually striking strain that is easy to get excited about smoking.

Violator Kush: Taste & Smell
The dryness of the Violator buds that I got was echoed in the smoke- it's also dry and a little harsh, and some coughing should be expected. Of course, as I mention frequently, this is usually a curing issue and is not necessarily a characteristic that is strain-specific.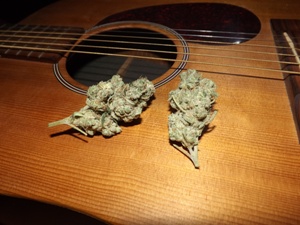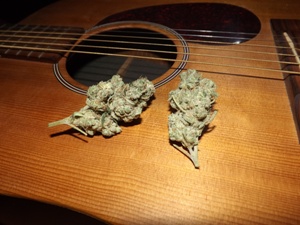 Despite the thick blanket of trichromes, Violator Kush isn't nearly as stinky as you'd think. In fact, the smell is fairly mellow compared to the dank strains like NYC Diesel or Cheese. Violator has a strong hint of old but clean hay, oregano and sage. I've tried quite a few of the Kush varieties, and this one distinctly lacked any fruit notes on the front end. Instead, the immediate flavor is of mellow cilantro, which fades to a scarcely detectable hint of overripe cherries and burnt chocolate.
Violator Kush: Potency

After just two hits the high came on strongly and was situated primarily in a band across my forehead. This spread slowly to the sides and part way up the top of my head before reaching a plateau for a couple of minutes. Then a noticeable creeping effect kicked in and the high spread into the back of my head and my eyes began to close up a little.
After 3 hits the high moved down my entire head and face, stopping at my chin and the top-back of my neck. My eyes closed a little more, and strangely I could feel the high in the skin of my nose.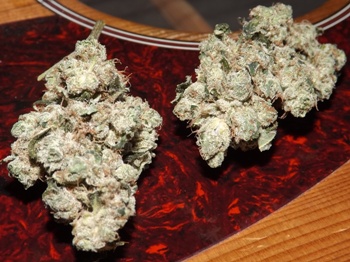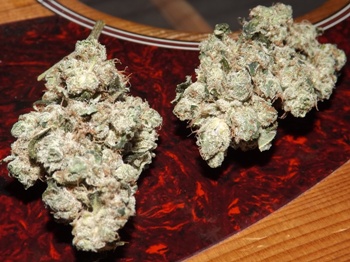 After the standard measure of 4 hits, the high increased significantly and began to buzz in the sides and top of my head. It moved to my cheeks and began to tingle there, and then spread down into the base of my neck. However, it never went beyond there – I received no body effects from this strain at all, which is fine with me.

Violator Kush: Duration
Veteran smokers can expect a consistent high lasting 2 – 2.5 hours on average. Occasional or infrequent smokers may experience a high lasting twice as long. Unlike many other marijuana strains, the Violator Kush high is not significantly diminished by eating or exercise.
There is a short creeping period associated with this strain. In general the high will continue to increase after each toke for around 10 minutes, but I've noticed it increasing for up to 20 minutes a few times.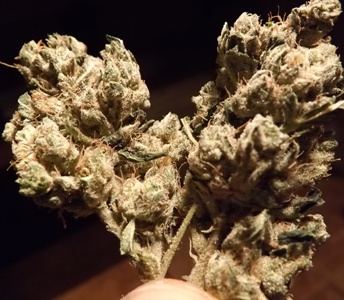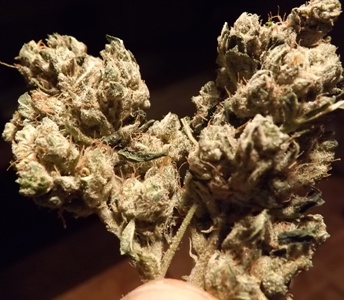 Conclusion
Overall the Violator Kush strain is strong, but for a premium Indica hybrid it could be more potent. However, it is an excellent strain if you're looking to keep the high mainly focused in your head, which could allow you to do fairly strenuous and extended activity without the high decreasing much. Personally, I could easily smoke a bowl of this stuff and breeze through a meeting or interview.
Have you ever tried Violator Kush before?
Marijuana Strain Review Rating for Violator Kush: 4 of 5 Stars
[author-post-rating]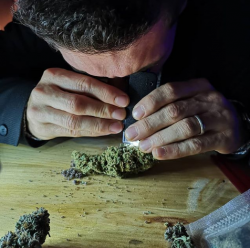 Latest posts by Russ Hudson
(see all)