Green Age cannabis club in Barcelona is one of the city's best cannabis social club. With chic, artistic decor, a marijuana selection unlike that of any other dispensary, and a few special surprises that I'll tell you about in the review below, Green Age cannabis club is a smashing example of everything that a good smoker's organization should be. The club manages to be hip and chill, abstract but down-to-earth, exclusive but warm, and above all else – dedicated to the cause that we're gathered here for: freedom to use marijuana.
(This is a preliminary application process; not all who apply will qualify for membership based on Spanish law and club policy. Application for membership is general and is not necessarily applied to any particular club unless the applicant fully qualifies.)
---
IMPORTANT: The cannabis club described in this review is a private association adhering to all laws and regulations governing such associations, most specifically but not limited to the following requirements:
*All new members must be sponsored by existing members. This is in keeping with the "Closed Circle" doctrine of law and the natural private state of cannabis clubs.
*All rules and guidelines in a cannabis club's "Articles of Association" must be obeyed and enforced under Spanish law.
*All new members must be habitual or current cannabis users.
*All new members must be age 18 or 21 at a minimum, based on the Articles of Association established by each club.
*All members are advised that cannabis in public places is illegal in Spain. Outside of the private environments of cannabis associations and private homes, consumption or possession is prohibited.
GREEN AGE IS ALL-NEW IN 2021! The original 2014 review is still here for your entertainment, but these next 3 photos and the feature image showcase the new Green Age, which is radically different from the old: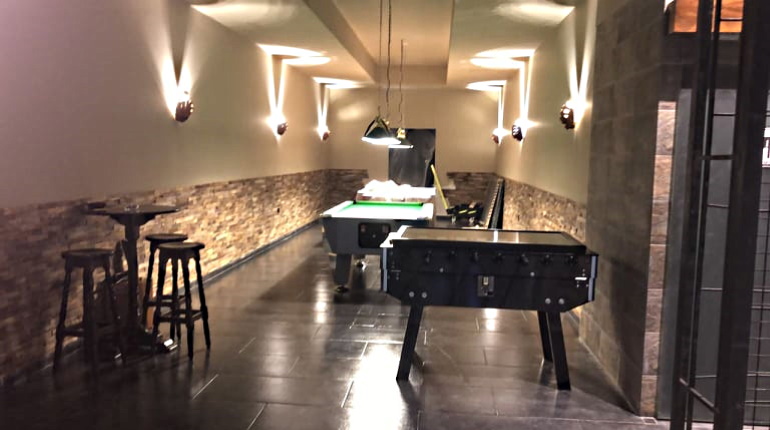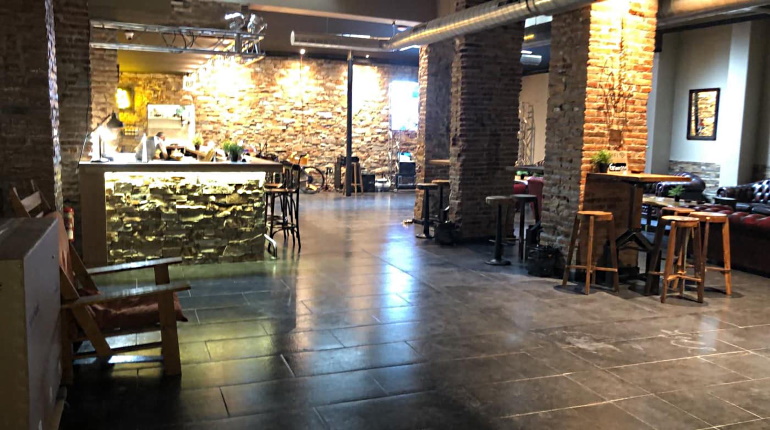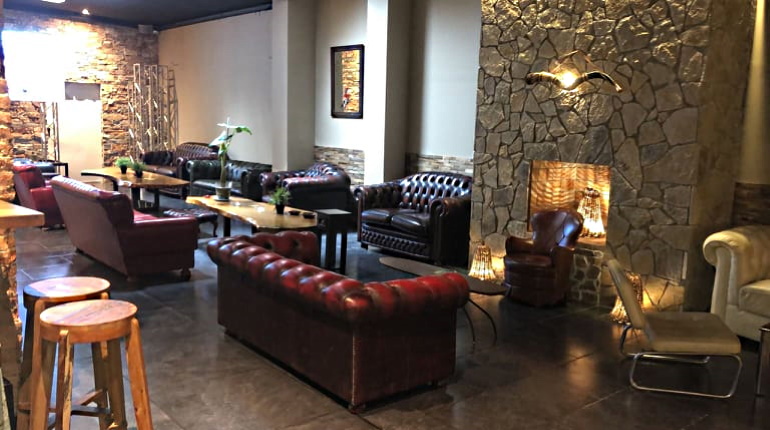 ******Please excuse the poor quality of the next photographs from 2014. These images will give you a basic idea, but to see crisp, clean images, I recommend going to the following link: http://greenagebcn.es/en******
Green Age: The Story Behind the Review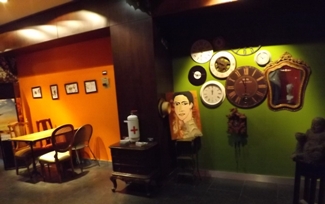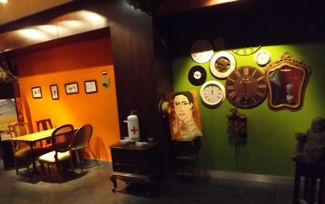 I was introduced to Green Age through an associate of mine who runs a small cannabis-related website. At the time it was early December and a cold snap had gripped Barcelona for a few days, but we decided to walk to the club from Placa Cataluña despite the chilly weather.
My companion talked about the president of Green Age during the walk, touting him as a man of conviction and wily acumen. We talked about some other things too, but he never really mentioned what the club was like. So when we arrived and walked into a beautifully decorated foyer, I was a little taken aback at the clean, modern and stylish setting.
It turns out that this is just the way my associate is; he rarely talks about the clubs we go to prior to our arrival. Instead, he lets me make my own conclusions after some careful observation, and then we discuss it to see if our views are similar. But I think just about anyone who goes to Green Age will have to agree that the club is absolutely second to none.
EDITOR'S NOTE: Green Age is under new ownership as of summer, 2021. 
Green Age: Environment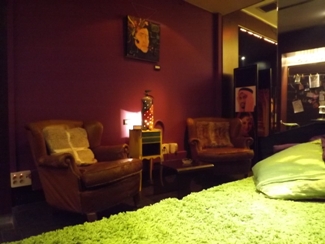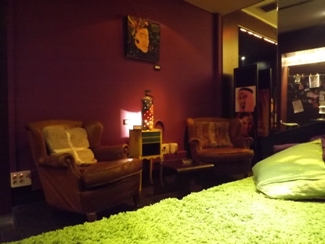 The outside door to Green Age is more tasteful than that of any other cannabis club in Barcelona that I've been to. Instead of unmarked commercial aluminum and glass doors, Green Age warms you right from the beginning with a beautifully crafted hardwood door. This leads to a small entryway to get you out of the cold or heat while you wait to be buzzed in to the main reception area.
Once inside we were greeted by a cute young lady who spoke to us in rapid-fire Spanish. I struggled to follow along but eventually fell behind, letting my associate talk with the girl while I surveyed the lobby. It was elegantly decorated with items of intelligence and compassion; a chess board here, statuettes of animals there, and lots of welcoming earthy wood tones.
Upon entry to the main part of the club, there is a lot to take in. As you enter a long and wide corridor, there are small themed seating areas on both sides. The themes aren't really specific – it's more of a feeling than a particular theme. Some feature a mixture of strangely arranged clocks, some have antique mirrors and some have whimsical art. A woman who works at the club told me that some of the artwork was created by the club's president, who gave new life to items by creating art made from things that had been discarded by society.
The dolls in the picture frame are an example, but I'm not sure if the same art I photographed at Green Age in early December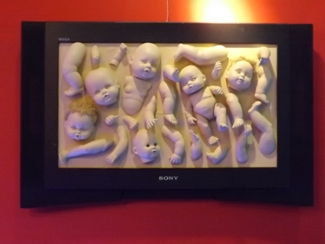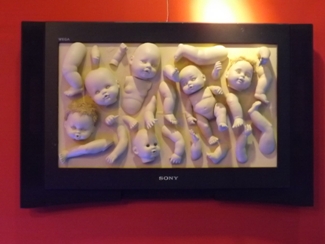 2013 is still there today. (Definitely not, new photos are included here.)
Some of these mini-lounge areas feature plush armchairs or even couches, while others have tables and chairs. One just has a small table and rows of string where dozens of notes have been strung up. Cool.
As you continue inside the club, eventually the bar area opens to your right and a large lounge is straight ahead, where you'll find tons of different kinds of seating – some comfy and some utilitarian, while the walls feature more eclectic art with a couple of flat screen televisions thrown perfectly in the mix.
The lighting in each lounge area is different and is designed to create a certain feeling…I think. That's the way it seems to me. The lounge area I would want to hang out in would depend mostly on my mood, and Green Age's mini-environments run the gambit of emotions.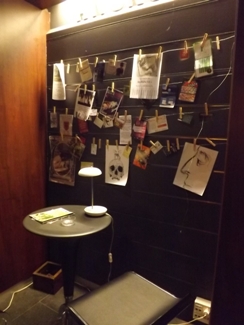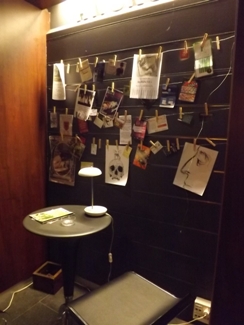 If you walk to the far right of the main lounge, you'll suddenly see that the long and wide corridor you went through in the beginning is now repeated on the other side, complete with more mini-lounges to discover. But it's at the end of this corridor that Green Age really makes their mark on the cannabis club community in Barcelona; they've built a super-hip 50's weird-retro style diner back there!
There's a long lunch counter with goodies under glass cake displays, and there's a cute waitress working behind the bar. In the far back there are several tables and lounge chairs where you can get a bite to eat and relax. It's amazing! This one feature single handedly sets Green Age so far above other clubs that it'd be hard to imagine a more appealing setup.
Seriously, this is the problem with other clubs; you've got people smoking the best weed in the world and hanging out in the clubs for hours, but when they inevitably get hungry, they either must leave or sustain on the vending machine snacks offered by most clubs.
Not at Green Age. Here you can medicate yourself, take a spiritual journey or just laugh with friends, and then you can savor a delicious sandwich or homemade quiche, or you can gorge on fresh cookies, cakes and pies. This is a massive bonus in my opinion and is the true definition of a 5 Star club. In fact, based solely on services alone, Green Age beats out all other 5 Star clubs in Barcelona, including my long-time favorite, Abcda.
Green Age: Marijuana Selection
Green Age also has a unique offering of marijuana strains and hashish that you just won't find elsewhere in Barcelona. I had been frequenting 6-8 other clubs at the time, and I was definitely noticing trends not only in their weed menus, but also in the menus of other clubs that I checked out but did not become a member of. Green Age bucked that trend completely, and at the time I reviewed their menu selection, they were the only club in the city that I knew of offering these particular strains:
Shiva Shanti
Medicine Man
Big Bud
White Shark
NUKEN
Shishkaberry
Green Spirit
I picked up some of the Nuken, and as you'll see in the review for the Nuken strain, I was quite impressed. This bud was just as beautiful as Green Age's decor.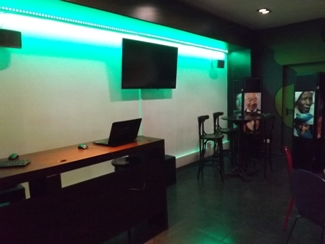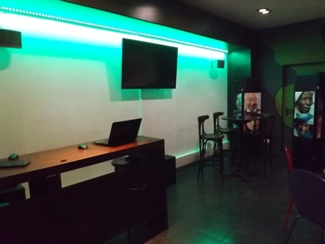 Additionally, Green Age offers some interesting hash types including some powerhouse hash that might be out of reach of the average member. Overall the marijuana and hash offerings at Green Age aren't massive, but are unique enough and potent enough to please even the most demanding weed snob.
Green Age: Events & Extras
Green Age has the usual selection of pipes, papers, filters, grinders, sodas, tea, water, coffee, etc. available at most clubs. But this club also offers edibles on a regular basis. At the time I first went to Green Age, I had been looking without success for edibles in Barcelona, so I was quite pleased when I saw a huge plate of cookies on the lunch counter.
Green Age hosts a number of different events including DJ nights, live music, theatre nights, games and tournaments, holiday celebrations, samplings, magic shows, dancing and more. As far as I am aware, Green Age has more events – and more unique events – than even the busiest tourist-oriented places like Kush and the Dragon. The main difference is that Green Age's events are geared more toward local members instead of every Tom, Dick and Harry that comes looking for weed in Barcelona.
Green Age can definitely keep you busy. I've been a couple of times in the middle of the day and the place was a little slow, but there were still plenty of people around. More importantly, the ratio of men to women is much better at Green Age than most other clubs that I have seen.
Green Age: Staff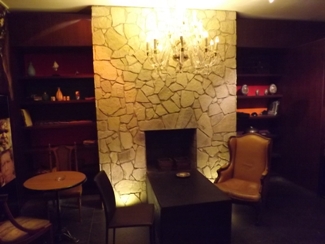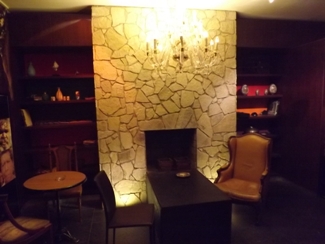 The motto of this club is "We are family," and it seems like they really mean that. The staff has always been extremely courteous and professional while still being quite welcoming – it's a nice change from some other clubs where the staff is about as stoned and careless as the average tourist on La Rambla. I've talked with the girls at the bar, the girls at the front desk, and the waitress behind the lunch counter, and they are all extremely friendly. If you ask a question, they'll know the answer, and if they don't they will find out for you. Awesome!
I gained permission from a manager of the club to take some photographs and he was exceptionally accommodating, telling me that "we are family," as if I shouldn't have to ask to photograph my own home.
I also sat in on a meeting between the club president and my friend from the local cannabis website, and though I had trouble following in Spanish, I can tell you that the man is impressive in the sense that he truly cares about the experience people have at his club. He's also passionate about the health of the private cannabis club community in Barcelona, and works to ensure that whatever his club does, it is done the right way the first time.
Conclusion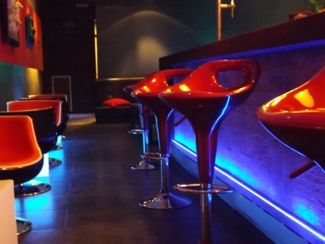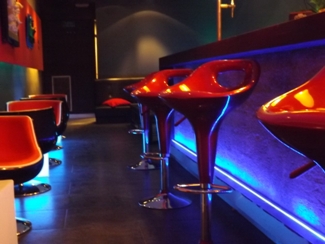 Green Age is perfect for a romantic and quirky first date, a business meeting or a gathering with friends or family; in fact the club is appealing for practically all events and occasions. And with a "highly" unique marijuana selection, it'll keep cannabis connoisseurs happy and continually coming back for more.
(This is a preliminary application process; not all who apply will qualify for membership based on Spanish law and club policy. Application for membership is general and is not necessarily applied to any particular club unless the applicant fully qualifies.)
If you've been to Green Age, let us know your thoughts in the comments. If you've been to a club that you think is better, let's hear about it!
Barcelona Cannabis Club Review Rating for Green Age: 5 of 5 Stars!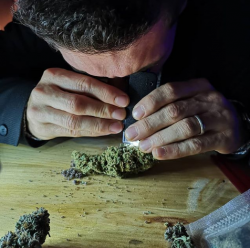 Latest posts by Russ Hudson
(see all)