This stoner's guide to the neighborhoods of Madrid will help you navigate the most famous barrios, indicate where you can get weed in Madrid, and places where you can safely smoke it. From Tetuán to Lavapiés, this guide deals with the trendiest and most popular barrios of Madrid, with listings of neighborhood cannabis social clubs in Spain's busy and trendy capital city.
CHUECA – Madrid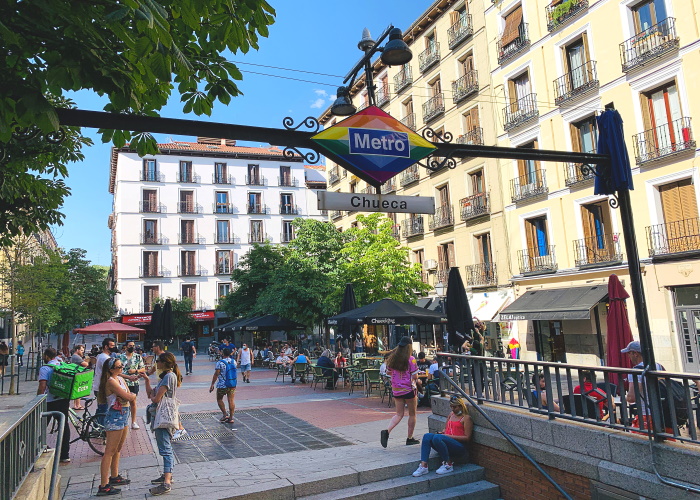 Located at the very heart of the city, Chueca can be described as an intergenerational playground.
The liveliest and trendiest bars of the 'SoHo' of Madrid share a sidewalk with traditional taverns and centuries-old establishments, which offer visitors an array of pleasures and possibilities within the same district.
Chueca is most famous for being the LGBTQ epicenter of the city. The Madrid Pride, celebrated in June, is the biggest LGBTQ celebration in Europe. It's an incomparable display of diversity, joy, modernity, and open-mindedness that hordes of people flock to witness every year.
During the day, Chueca is the place to go to discover beauty: You can grab a coffee at the Museum of Romanticism – a mere 6 minutes from Plaza de Chueca – or try your luck at the Casino Gran Vía, one of the most beautiful buildings in the city. Make sure to take a selfie with the La Rana de la Suerte before you enter.
For shopping options, visit the Mercado de San Antón or take a stroll down the famous Calle Fuencarral for original shops and eccentric apparel. After you've done your shopping, get yourself to the legendary Museo Chicote, order one of their famous cocktails, and start planning your evening. It may take a while because, when it comes to nightlife offerings, the range of possibilities in Chueca is almost endless: there's low-key venues, dance halls, cocktail bars. You name it. Whoever you are, whatever you're looking for, rest assured Chueca has a place for you.
Cannabis Social Clubs in Chueca – Flower Farm.
Where to smoke weed in Chueca – Jardines del Arquitecto Ribera, El Retiro park.
MALASAÑA – Madrid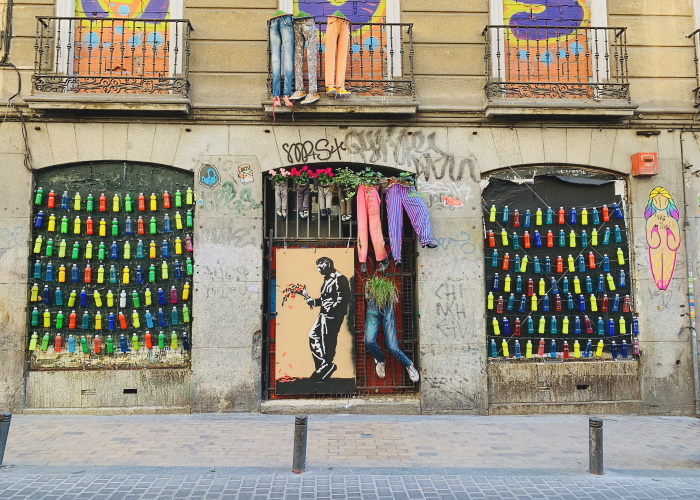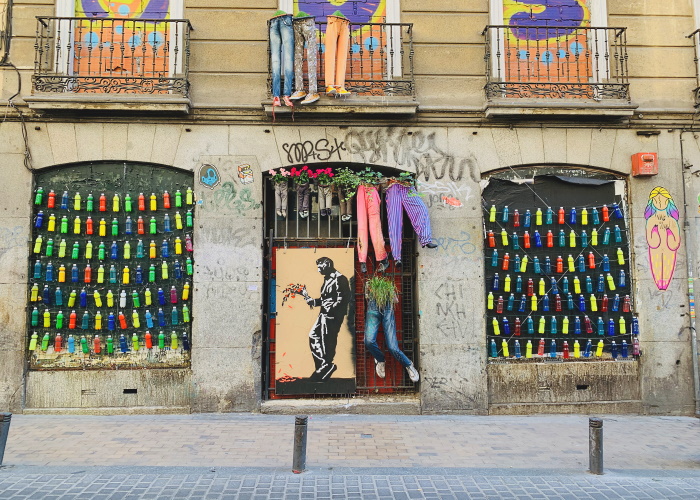 Four decades ago, Malasaña was the epicenter of the counter-cultural movement known as La Movida Madrileña (The Madrid Scene), an explosion of artistic freedom following the end of the Franco era. The neighborhood bore witness to the birth of musicians, painters, and filmmakers whose ideas and styles would spread like wildfire unto the rest of the country and define a new era for Spain. Today, that bohemian, free-willing spirit still reverberates in the streets of Malasaña.
Malasaña is where you go for the budget-friendly cafés and bars, second-hand booksellers, vintage shops, record stores, and art galleries. La Fiambrera is an excellent place to experience some urban and pop art, El Tigre is ideal for several rounds of beer and free tapas, and the Mercado de Fuencarral is the place to shop for funky, cool clothes.
Malasaña is also great for music; El Penta and La Vía Láctea, iconic music venues from la Movida, are still operational, and they're worth checking out for a night of Spanish pop history. Café La Palma hosts concerts and open mic nights, and Kikekeller is great for craft beer.
If you happen to find yourself in Madrid in late Spring, don't miss the Fiesta del 2 de mayo, and if you're there in early summer, make sure to catch the Urban Art Marathon Pinta Malasaña.
Cannabis Social Clubs in Malasana – Buda, La Natura Cura, Green Shine CBD (CBD Only),
Mahua Cannashop, CBD Shop Valverde, Leaf Seak.
Where to Smoke Weed in Malasana – Your best bet would be the Plaza del Dos
Mayo or Plaza San Ildefonso. As always, be discreet.
CHAMBERÍ – Madrid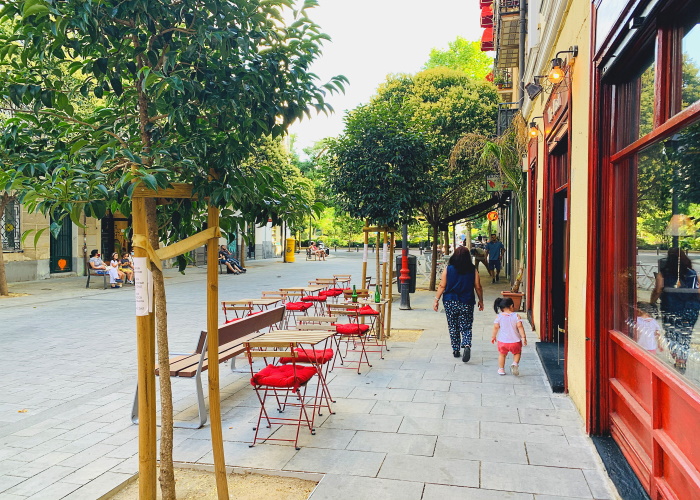 Chamberí is the castizo neighborhood on this list – meaning the more traditional, autochthonous, and loyal to the laid-back and authentic Spanish lifestyle. It's located north of Malasaña and Chueca, but once you enter Chamberí, the din of the city dissipates and gives way to an air of relaxation and ease.
Once the home of the aristocracy of Madrid, Chamberí flaunts stately buildings, ample avenues, and shaded sidewalks that invite visitors to just take it easy for a bit and experience the friendliness of Spanish hospitality. Grab a sandwich (the chicken sandwich is highly recommended) at Cafetería HD, delight your palate with a cup of tea at Salon des Fleurs, or listen to some Jazz at La Sala Clamores.
If you're a skater, you'll be pleased to know Chamberí has several skating and skate shops with a product selection you won't find anywhere else in the city. Game enthusiasts will also be delighted by the 5+ stores devoted to card and board games, comics, books, and collectibles in the neighborhood.
Cannabis Clubs in Chamberi – Gasolina Social Club, Eleva 4k, Ganja Friends, El Tren Azul, La Milla
Verde, CBD House Madrid.
Where to smoke marijuana in Chamberi – Plaza de Olavide or Jardines de la Plaza Conde del Valle de Suchil.
LAVAPIÉS – Madrid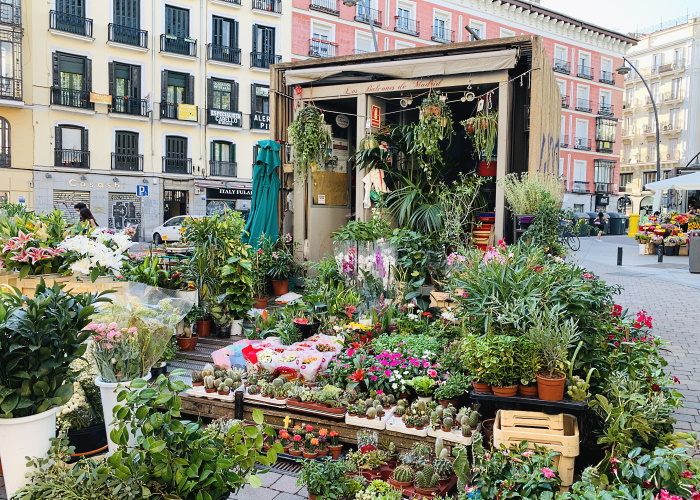 Lavapiés is the multicultural barrio of Madrid. Located south of central Madrid, generations of immigrants have settled in this neighborhood for decades and colored it with their cuisine, celebrations, music, and fashion. It's the place you go to discover how well Spain mixes with the world, one plate and multiple activities at a time.
Aside from the abundant traditional food stores, Lavapiés hosts El Rastro, one of Madrid's most famous flea markets. It also has rare book shops like Libros Antiguos Romo, which is a treat for those hungry for curios and adventure. Actual hunger can be relieved in the Mercado de San Fernando, where the best of the Asian, Latin American, and European dishes can be sampled.
Lavapiés also has an important artistic offering: Dr. Forqueut Street in Lavapiés is known as the most important street for Spanish art, and it's the place where young artists, local and foreign, flock for inspiration. The Reina Sofía Museum is another place to go if you're into Picasso, Dalí, Miró, and Buñuel. Finally, there's La Tabacalera, which should be a mandatory stop during your visit to Lavapiés. A former tobacco factory, today the space is used for photography and visual arts exhibitions, film screenings, concerts, and workshops.
If you're in Madrid in the summer, make sure to join the Feast of San Lorenzo, one of the city's open-air festivals from the August Fiestas that features folk music, marching bands, street processions, and dance performances, including traditional dances like the chotis. Bring your friends, grab some lemonade from one of the market stalls, and enjoy the celebration.
Weed Clubs in Lavapies – You'll find Sweed Quality Lab, AMEC, Tokio, The Green Toy,
Profesor CBD y la Catedral, Tokio, Profesor CBD.
Where to smoke weed in Lavapies – Real Jardín Botánico, El Retiro Park.
SALAMANCA – Madrid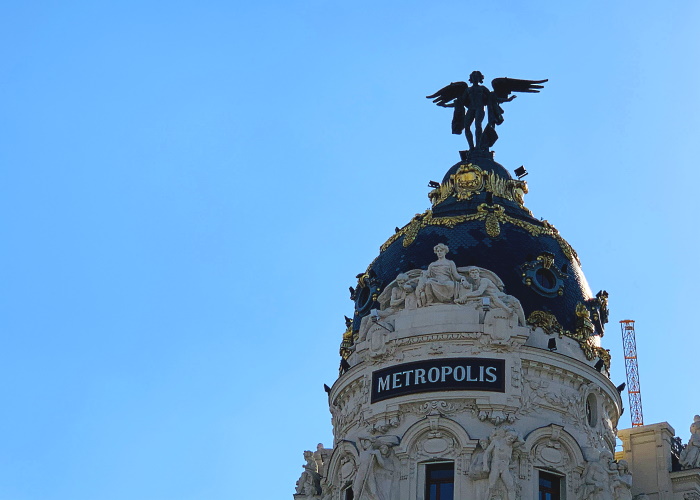 Salamanca is the elitist district of Madrid. Elegant and distinguished, it was developed in the 19th century exclusively for the wealthy families of Madrid. To this day, it remains the most exclusive neighborhood in the city, with luxury brands, high-end restaurants, and a star-studded clientele to go with each. But that's not to say the district doesn't have something for everyone else.
If you're visiting Salamanca, you should head first to the Gran Vía and take a picture with the Metropolis building – a staple of Central Madrid – in the background before moving up to Calle Serrano or Calle José Ortega y Gasset. Once there, start your exploration of the Milla de Oro (Golden Mile), a long stretch populated by the most prestigious of the national and international fashion brands, jewelers, and restaurants. Whether you're actually shopping or just window shopping, it's an unforgettable experience. You'll want to rest your feet after, and the place to do it is Los Jardines del Descubrimiento (The Gardens of Discovery). Catch the sunset if you can.
Cannabis Social Clubs in Salamanca– None.
Where to Smoke Weed in Salamanca – Jardines del Descubrimiento.
TETUÁN – Madrid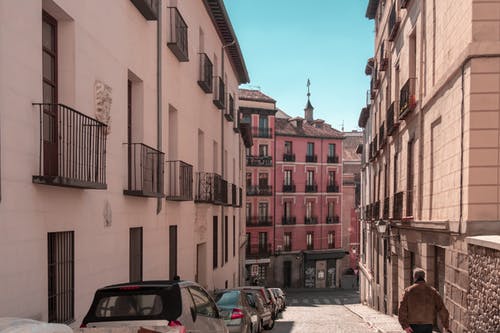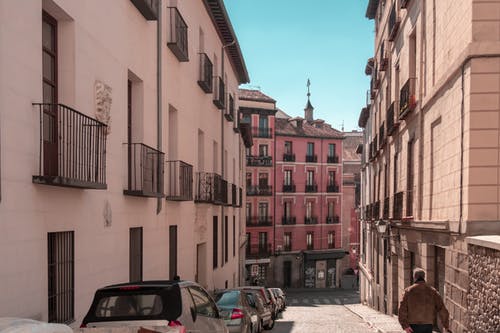 Tetuán is a working-class neighborhood located north of Chamberí. It's more quiet and sober than the rest of the barrios on this list, with none of the tourist mayhem of the central neighborhoods. Still, Tetuán is also home to a substantial number of people of Latino and African origin, which makes Tetuán an ideal gastronomic destination.
The Mercado de Maravillas is, of course, less touristy, and it's got fewer bars/eateries than the rest of the markets in this list, but it's said to be the BEST market in Madrid. It's where people go to stock up on cold cuts, fresh produce, cheeses, and what are likely the best olives in all Madrid, all for incredibly affordable prices. Several stalls of Latin American food are located at the back of the market, which provides an opportunity to partake in an empanada tasting session. Almost every Latin American country has its own version of this pastry, and you can try them all at this exciting market of wonders.
Architecturally, Tetuán is a contrast between modesty and modernity: there are little shops, single-story buildings, and bushy community gardens, but there's also imposing skyscrapers like the Picasso Tower, the Europa Tower and the striking Castellana 81 that bring height to the district. If you're an architecture enthusiast, get yourself to the Gate of Europe towers and admire the first inclined skyscrapers ever built.
Marijuana Smoker's Clubs in Tetuan – Los Secretos de María, Hookah.
Where to Smoke Weed in Tetuan – A good place is the Skate Plaza at the Agustín
Rodríguez Sahagún Park.
Other clubs you might want to visit in Madrid:
Green Shot – located in Valverde, northwest of Tetuán.
DISCLAIMER – You can be fined up to 600 euro if you are caught displaying or consuming cannabis in public in Madrid. The safest way to enjoy marijuana in Spain's capital is by joining a Madrid cannabis club here. Remember, it's ok to use cannabis in private, just not in public. If you do light up in one of these neighborhoods, Cuidado!
Have you smoked marijuana in one of these neighborhoods before? Tell us about your experience in the comments section below!
Latest posts by Rachel Clark
(see all)