Saigon is the best cannabis club in Barcelona, but you've probably never heard of it.  Located in the upscale district of Barcelona called Gracia, this cannabis social club has maintained its privacy and exclusivity for years, thanks not only to its discreet location, but also to direct policy.  As one of the most visually spectacular cannabis clubs in Barcelona, Saigon fuses its luxurious Asian-themed décor with a range of cannabis products for all types of members; from those on a budget, to those demanding the highest quality, exotic strains. Check out the beautiful photographs and description below, and you'll quickly understand why Saigon easily clinches the win for Best Cannabis Club in Barcelona.         
DISCLAIMER: The author has a personal and professional relationship with the Board of Directors of this Barcelona cannabis club.  However, exceptional efforts have been made to remain unbiased and accurate in this review.  If you feel differently, please leave a comment below and we'll take it under consideration.   
METHODOLOGY: The Best Cannabis Club in Barcelona was chosen based on the previous 12 months of comments, reviews, evaluations, and other criteria, compared against the 20-30 top social clubs in the city and blended with my personal and professional opinions after working with more than 20,000 people and 300 clubs in Spain's cannabis social club industry over 6 years. 
Honorable Mentions: Dr. Dou, StrainHunters, and HQ are close runners-up. 
Saigon Cannabis Club: History
Saigon is a reincarnation of one of the oldest cannabis cubs in Barcelona, the "La Maria Gracia" club.  La Maria Gracia had an excellent yet perfectly muted reputation in the city, but the club was drab, poorly lit, sparse, and quiet for all the wrong reasons.  Catering mostly to Catalan locals, the former president of the club moved to South America in 2015 after handing control of the reins to one of my clients – a man who later became a good friend of mine (who I'll refer to here only as "Mike"). 
With a long and storied past in the Dutch and German markets for cannabis, Mike tapped into the passion of a few friends of his who were old-school cannabis connoisseurs.  The group invested an astonishing amount of money and resources into the club, developing it into the suave, friendly, and well-stocked social club, Saigon.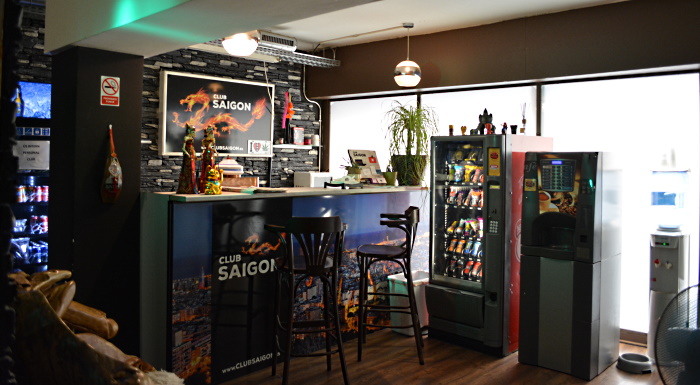 Saigon Cannabis Club: Environment
The street where you'll find Saigon is closed to automobiles; the best option is to walk from Grande Gracia (this is the section of the street, Gracia, that crosses Diagonal and starts again after a half-roundabout on the other side).  As you approach Saigon, it becomes clear that you're in a residential neighborhood.  There are no bars, restaurants, or businesses here – just sleepy apartments, and Club Saigon. 
You can only join Saigon through the referral of an existing member in good standing, and typically this member must present you in person.  Ring the bell outside the door and wait for access to the reception area, where you'll fill out some paperwork and submit identification. 
After signing for your membership card, the doors into the club will open automatically, whooshing aside like a StarTrek airlock.  You'll see the tasteful bar directly ahead of you, the cannabis dispensary hidden to the side of this, and to the left are the innards of the club.  The first section of the club's interior is dominated by a massive solid-slab table that cost about as much as my tiny house in Maine, USA.  This table is where the club's diehard regulars congregate, and at the head of la mesa grande always sits the President of the club, Mike.  I have enjoyed many nights at Saigon, sitting across from Mike, playing hundreds of games of chess, taking intermissions to chat with members and cannabis industry professionals who filter in and out of the club. 
Past the table and deeper into the club are several cozy "living room" areas, each with a handsome set of plush leather armchairs and sofas.  The first space features a large marine fish tank with a hand-painted mural of Disney, cartoon, and video game characters, and a big flat screen television.  I've noticed on many occasions that members relaxing in this area watch the action in the fish tank far more than they watch whatever's on the T.V.  Several more living room areas behind this space feature ornately wrought tables, cabinets, and other furnishings, while expensive wooden games, statues, and other Asian-themed curios add to the charm of an atmosphere that can't be found elsewhere in Catalunya.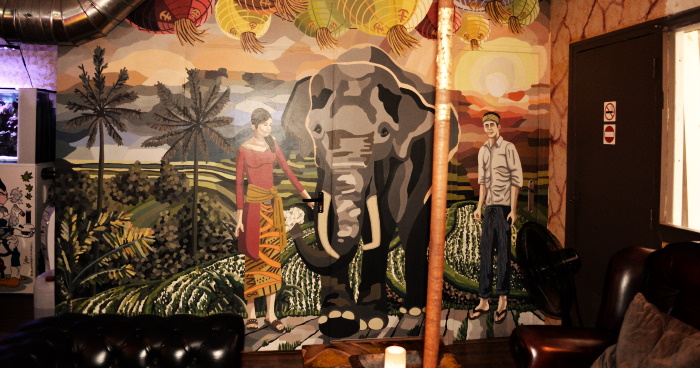 Glancing quickly around the club, it might be unclear where the bathrooms are, until you look closely at a huge mural on the eastern wall, which depicts a woman and a man walking an elephant through peaceful farmland.  The woman's left hand is touching the handle to the women's bathroom door, while the handle to the door for the men's bathroom is at the left elbow of the man in the mural.  Inside, clean, well-appointed bathrooms await. 
Saigon is always clean, always ready to service members.  The music is never too loud, and it's easy and comfortable to work or study while sitting at the gargantuan table.  Unfortunately, because the club is located in a residential area, closing time is usually between 22:00 – 23:00, in keeping peace with the neighbors.  But while you're in the club, you can expect to receive personal attention, breathe air that's been well-filtered, and have access to the cannabis products you need.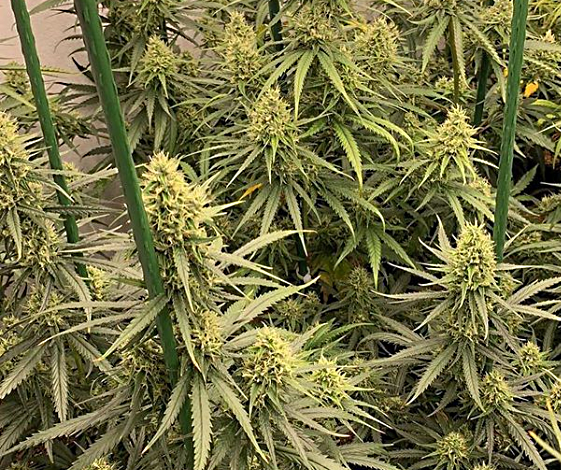 Saigon Cannabis Club: Cannabis Products
Unlike many other cannabis social clubs in Barcelona and Madrid, Saigon grows most of its own cannabis.  And with 20 years of Dutch cultivation experience at the helm of operations here, the club is well-stocked with good cannabis at surprisingly reasonable prices.  In fact, that's what Saigon specializes in; regular weed for regular people.  The club also has some cheap stuff, and for the weed snob, some top shelf products, too, but the primary goal at the heart of Saigon is to serve regular everyday people.  If you want American strains at 40 Euro per gram, go to The Plug.  If you want a big club with all kinds of events and action, go to HQ.  If you really want full-melt and dabs and all the newest cannabis products, check out LaKalada.  If you want proprietary strains that no one's ever heard of, go to Greenardo.  But if you want good weed served in a place that feels like home, that's what Saigon is all about.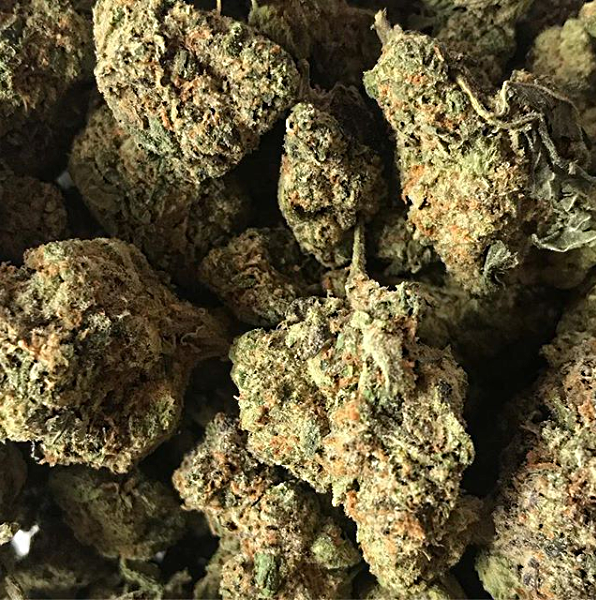 Saigon Cannabis Club: Events & Extras
Saigon offers its members a variety of events, special functions, and extras.  This includes dinners and other meals for members, sports games and events, live music and DJs, movies, and a lot more.  While inside the club, members also have access to tea, coffee, soda, water, snacks, papers, tips, filters, bongs, pipes, screens, cleaning implements, and everything else a cannabis connoisseur might need to enjoy their cannabis in peace.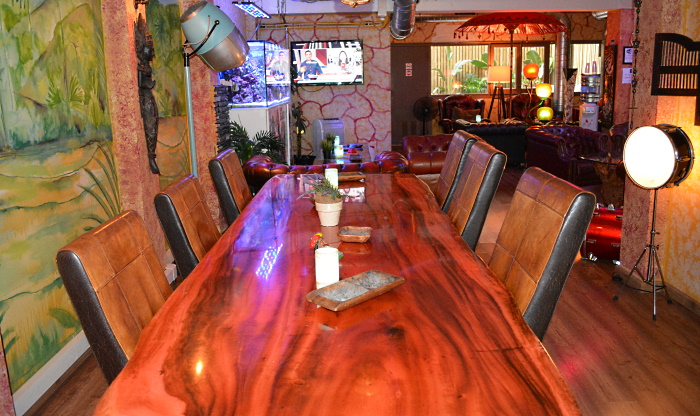 Saigon Cannabis Club: Staff
Expect to receive more personal attention at Saigon than at any other cannabis club in Barcelona.  That's because the two primary members of the Board of Directors (private cannabis social clubs in Spain do not have "owners") love their club so much that they spend most of their days there, hanging out, socializing with members, and networking in the community.  Unless the club is really busy, members generally don't even have to ask for refreshments; staff will often stop by where you're sitting to ask if they can get you anything, and then they'll even bring it to you.  The only other club I know of that was consistently like this was the defunct La Mesa cannabis club in El Borne, and to a lesser degree, Dr. Dou in Raval.
Overall, the staff at Saigon are attentive and friendly, but they also know when to leave members alone to chill in peace.  In general, the staff at Saigon seem more relaxed and stress-free when compared to staff at other cannabis clubs in Barcelona, who are often overworked and undervalued.  This clearly isn't the case at Saigon, where members and staff are treated as equal family members.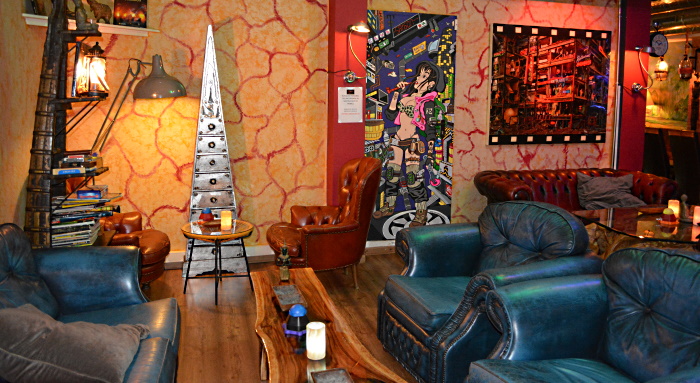 Conclusion
Saigon is one of the few Barcelona cannabis clubs that I go to regularly.  Sure, I still stop in to the swanky Dr. Dou from time to time, or occasionally make my way out to Horta for the draw-droppingly good cannabis at Greenardo, but at the end of most nights, you'll find me at Saigon, playing chess and smokin' the good stuff.    
Have you been to Saigon, or are you a member of this Barcelona social club?  Let us know your thoughts in the comments section below: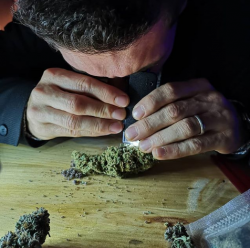 Latest posts by Russ Hudson
(see all)