This list of the top 13 restaurants for stoners in Barcelona takes into account the significant flavor and aroma changes that occur in people after consumption of cannabis. These Barcelona restaurants are well-suited to cannabis connoisseurs, who perceive things differently than the average diner. Restaurants are selected based on my 7 years of living in Barcelona and working with thousands of people in the cannabis industry, and is arranged by neighborhood and type of establishment; there's something for every stoner here. For all of these top 13 restaurants for stoners in Barcelona, I've also recommended a nearby professional Barcelona cannabis social club.
METHODOLOGY
This list is based solely on my personal opinion. Of the hundreds of Barcelona restaurants that I have been to, these are the ones I return to the most, and they're also the ones I invite my stoner companions to repeatedly.
Note: This list does not feature any restaurants on Las Ramblas; these are not good food or ambiance and are mostly for tourists.
Raval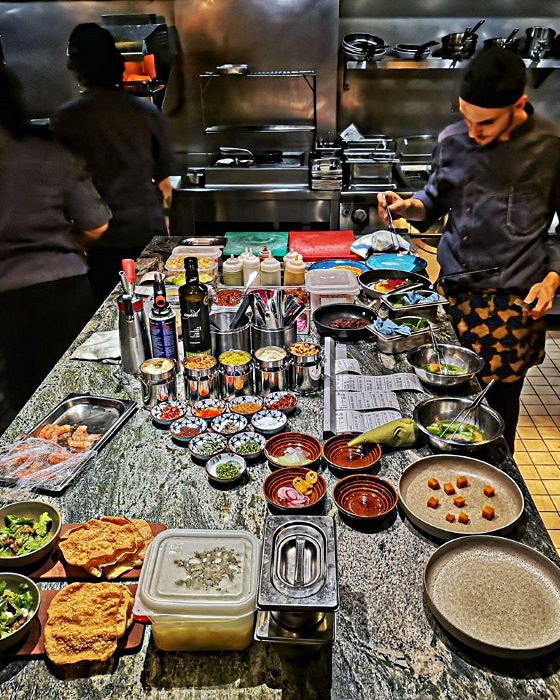 Chaka Khan – Fusion – Dinner
Carrer de l'Hospital, 104, 08001
Chaka Khan is an Asian-fusion restaurant located at the top of the Ramblas del Raval; it's a busy spot, but it's one that many tourists never find. Here you can eat outdoors, downstairs in the bar area, or upstairs. I've dined here dozens of times; by myself, with friends, colleagues, and several times, for dinner meetings. The bar seating at the kitchen affords a colorful and vibrant view of the chefs in action, but the food is so delicious at Chaka Khan that it really won't matter where you end up sitting.
The menu at Chaka Khan changes seasonally, so it's best to call the restaurant or check their website if you need to know what they're serving. My practice here has been to simply order several new items from the menu every visit, and so far, I have not been disappointed. The ribs here are among the best in the world, and Chaka Khan is possibly the best restaurant in Barcelona…I say this with reservation, as there are still hundreds of establishments that I've never been to.
Staff at Chaka Khan are among the most-friendly of any restaurant I've ever been to, and it'll only take a visit or two before you'll be greeted by name.
Note: Some menu items are reserved for 2 or more guests only, so plan accordingly if you'll be dining solo.
Before visiting Chaka Khan, stop in to the swanky Dr. Dou cannabis social club – it's private, but if you can score an invitation, it's one of the top marijuana clubs in the city and perfectly matches the friendly, exotic, but low-key vibe of Chaka Khan.
Cera 23 – Spanish – Dinner
Carrer de la Cera, 23, 08001
Located in the deepest part of the heart of Raval, Cera 23 is location-named, with dishes that are traditional and exotic Spanish tapas variations. A cozy place, this restaurant is perfect for a romantic dinner, tapas and drinks, or even for a business meeting with a personal flair. I've dined here alone and with friends, and every time the food has been excellent; their shrimp dishes are particularly good.
Cera 23 isn't a huge place and it does get busy at night, so make sure to call ahead or prepare to wait at the bar.
To acquire world-class cannabis before or after eating at Cera 23, check out Dr. Dou, LaKalada, or, just a couple of blocks away, StrainHunters.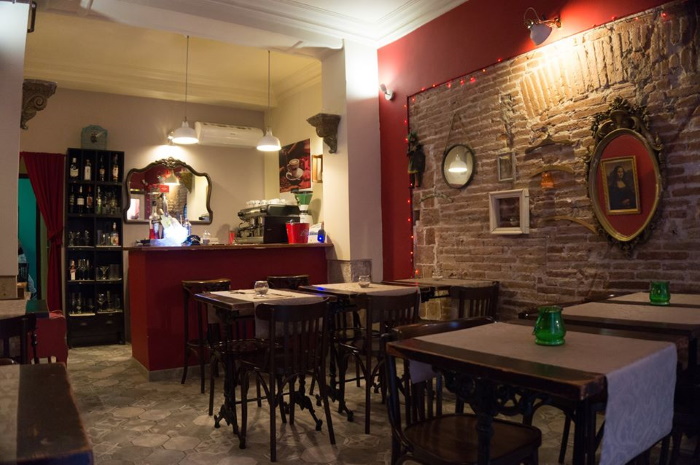 Closet Restaurant – Mediterranean – Dinner
Carrer de l'Hospital, 157, 08001
This Mediterranean restaurant is aptly-named, as it's no more than one small room with a handful of tables, and funky hours, too. But the dishes here are mouth-watering and extremely satisfying; my favorite is the Lasagna Bolognese, and a spiced cheese platter that I cannot remember the name of. I've only dined here alone, but recommend a romantic dinner here as well. The service is friendly and very prompt.
Because the Closet Restaurant doesn't keep the most consistent hours, it's best to call ahead before you go into Raval.
For cannabis clubs close to this restaurant, consider LaKalada, or Dr. Dou marijuana club.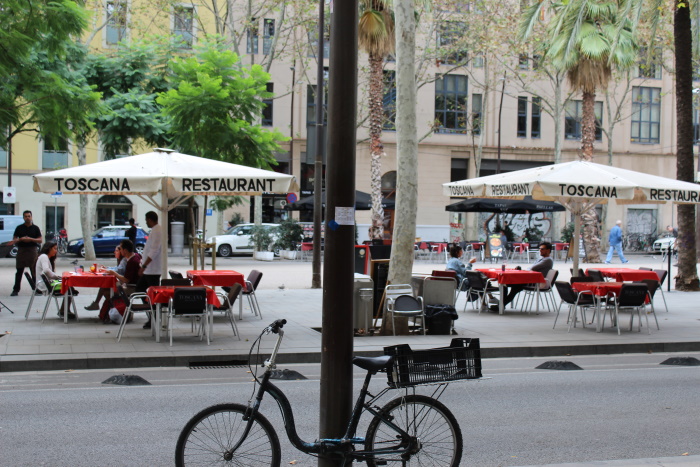 Bella Toscana – Outside lunch – Italian
Rambla del Raval, 9, 08001
If you're looking to have lunch or tapas outside, but don't want to deal with the tourist insanity of Las Ramblas, Bella Toscana has heated outdoor seating on one of the coolest promenades in the city. Here you can enjoy perfectly cooked thin-crust pizzas, croquettes, and handcrafted pastas and seafood dishes.
Staff at Bella Toscana are attentive in a way that other restaurants in Barcelona just can't match – ask for Salim, and tell him that Russ Hudson sent you, and I guarantee you special treatment.
Inside, Bella Toscana offers tasteful tables for dining when the weather isn't great, or for business luncheons. I've dined here dozens of times alone, and had numerous business meetings as well. Food prices are cheap, but the portions are plentiful and the quality is good.
Bring some smoke with you – I always puff on fat joints while sitting outside at this restaurant. You can get cheap cannabis nearby at Carme 66, or you can go the professional route and join Dr. Dou social club, just a block away.
Ramblas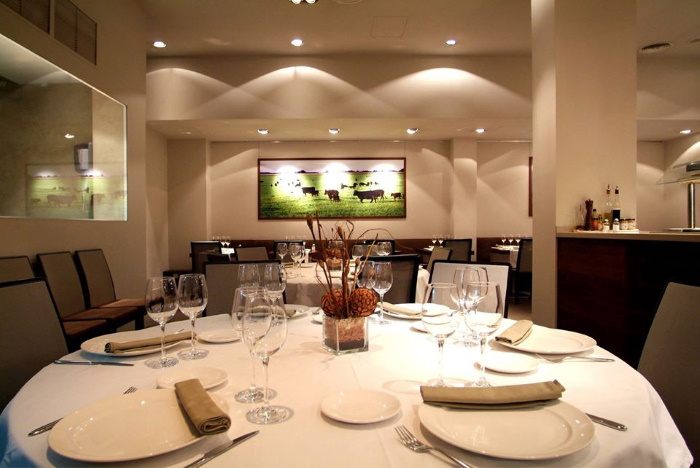 Patagonia Beef & Wine – Argentinian – Dinner
Gran Via de les Corts Catalanes, 660, 08010
Reservations are strongly recommended at the best steak restaurant in Barcelona. Patagonia is a beautiful restaurant with a tastefully decorated interior that, although pleasant, focuses the attention on the food – which is stellar. From the potato croquettes to the filet mignon, every dish I've eaten at this restaurant is so good I've typically ordered the dish twice…in the same visit.
You'll need to dress somewhat nicely here, and expect to be turned away if you are wearing beach clothes and don't have a reservation. Patagonia is the perfect place for a business dinner meeting, or for a romantic night out.
After dining at Patagonia, consider an after dinner smoke at Mon Ami, Choko, or Tresor private cannabis clubs.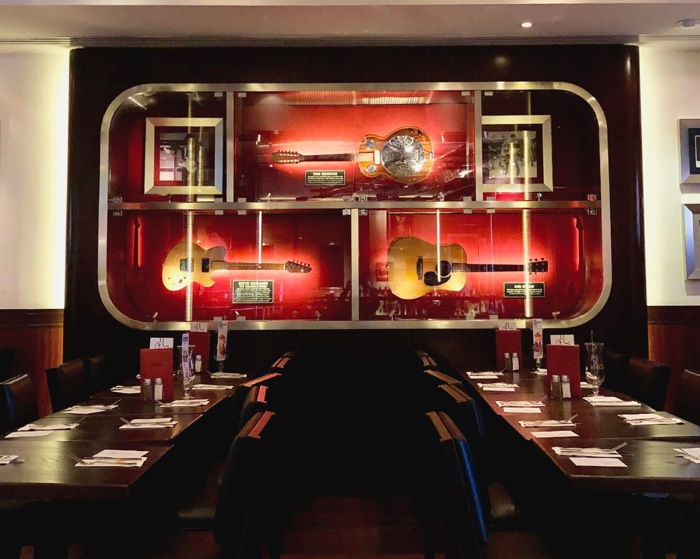 Hard Rock – Placa Catalunya – American Food + Entertainment
Plaça de Catalunya, 21, 08002
If you like rock n' roll style entertainment while you eat American food, Hard Rock Café at Placa Catalunya is an awesome choice. Surprisingly, the food here is quite good; from steaks to chicken to pasta, I've yet to have a meal here that I didn't like. However, it's all very corporate, so if you're not also going to Hard Rock for entertainment, there may be better restaurants to explore.
I've eaten here a few times by myself, but mostly this is a good place for business luncheons, and for night-time entertainment; staff might start dancing on the tables, or a rock concert could break out in the middle of dinner. It can get loud, so be ready to party here.
From Hard Rock, there are two professional cannabis clubs nearby; LaMente, and Choko.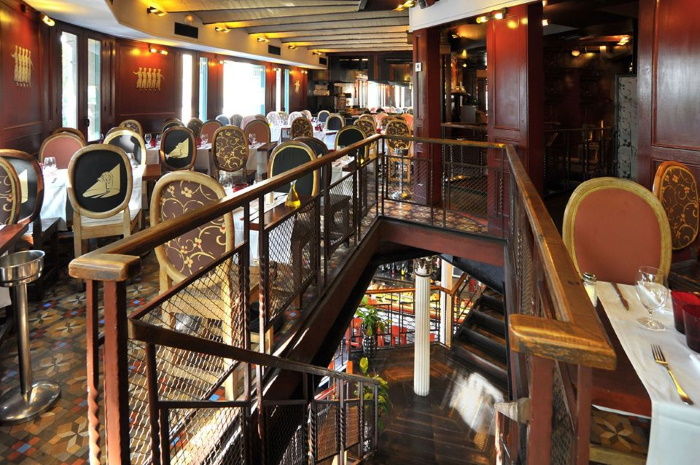 La Tramoia – Dinner
Rambla de Catalunya, 15, 08007
I went to La Tramoia by accident once; I was out late at night and looking for anything a bit classy that was still open, and stumbled in here around 10:30 PM. Since then, I've gone back several times, always by myself, and have been amazed at how good the food and drink is. From solomillo to pan-seared tuna, the flavors put out by La Tramoia are barely believable, melt-in-your mouth and cause you to slide deep down into your seat – that kind of delicious. And if you've just smoked some of the city's cannabis, the flavors are even more rich.
The service at La Tramoia is professional and attentive but slightly impersonal, which I'm fine with. If you want your server to be your buddy, go to Hard Rock. I recommend trying this establishment during off-hours, as it can get very busy here during the dinner rush, which seems to last right up until the restaurant closes.
After enjoying the fine cuisine of La Tramoia, the well-established LaMente cannabis club is just a block away, and HQ is a quick drive.
Born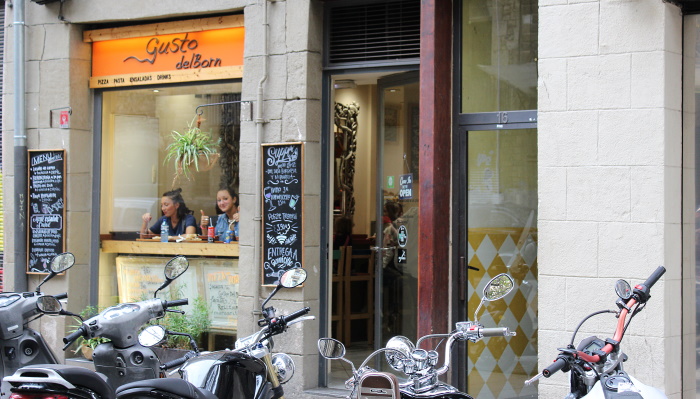 Gusto del Born – Italian Lunch
Passeig del Born, 16, 08003
Gusto del Born serves up the best meat lasagna in Barcelona. It's hand-made every day; an admirably hearty portion, and comes with focaccia and a beverage for just 7 Euro – this is one of the best and most delicious lunch deals in the city.
There's not much room at this restaurant; there are some bar seats, but no tables. Though it's not a place to have a languid dinner, if you're in El Born and want a hearty, delicious meal that you can afford, this is one of the best in Barcelona.
From Gusto del Born, go right, then a quick right down Calle Rec; follow this to the end and Circulo cannabis club will be on your right-hand side.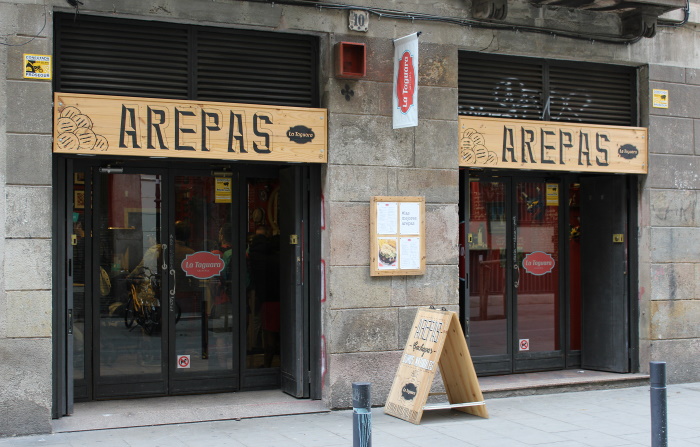 La Taguara – Vegetarian Lunch, Venezuelan
Carrer del Rec, 10, 08003
La Taguara opened in 2016, and almost immediately became a El Born neighborhood favorite. Serving up healthy, Venezuelan-style arepas (like a pita pocket), the ingredients at this little place are extremely fresh and include seasoned pork, chicken, and vegetarian dishes.
The food and indeed the entire concept of La Taguara is unique, but adding to this is the fact that this Venezuelan joint presses fresh juices every day from an interesting selection of fruits, including several that this author had never heard of.
An arepa, a small handful of plantain chips, and a beverage is about 7 or 8 Euro – an excellent deal considering the freshness of the food. Seating is confined to just a few tall tables, usually with no chairs. So, while an arepa is an excellent, healthy, and fast lunch, having a dinner here isn't the best option unless you're just looking for something fast.
Once you exit La Taguara, go right down C. Rec, and the last entrance on the right before you hit Av. del Marques de l'Argentera is Circulo cannabis social club.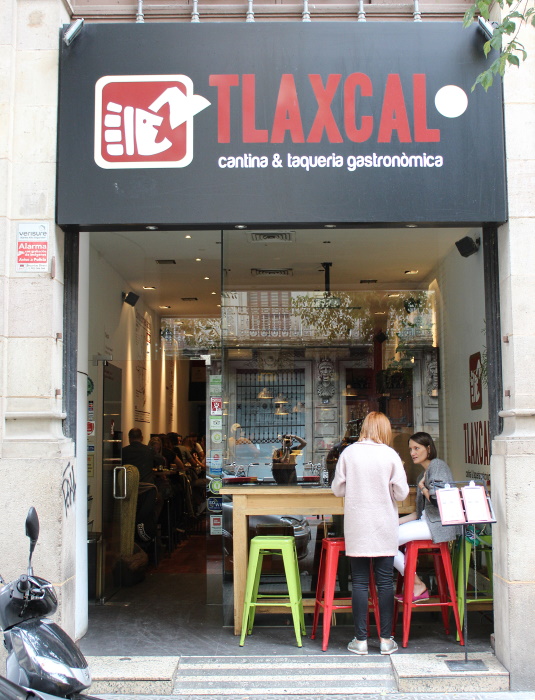 Tlaxcal – Dinner, Mexican
Carrer del Comerç, 27, 08003
There's a special place in my heart for Mexican food, and Tlaxcal serves up some of the best in Barcelona, and indeed, in the world. My wife and I eat Mexican food wherever we find it; from the slop houses of dead-poor central Florida to the inauthentic "Tex-Mex" establishments of Amsterdam and everywhere in between, we simply adore Mexican food. Tlaxcal's versions of classic Mexican dishes are truly something to get excited about. From carnitas to flautas, chimichangas to enchiladas, the food at this Mexican restaurant is simply perfect; I've never had a bad or mediocre dish. With impressively fresh ingredients served by friendly and attentive staff, I've had many great experiences here, and strongly recommend this restaurant to any lover of Mexican food.
There are limited hours for lunch at Tlaxcal, and dinner time can get very busy, so make sure to reserve a table, or be prepared to wait for a bit – it's worth it!
Circulo cannabis club is just a short walk from here, and is open early enough and late enough that you can enjoy premium cannabis before or after dining at Tlaxcal.
Gracia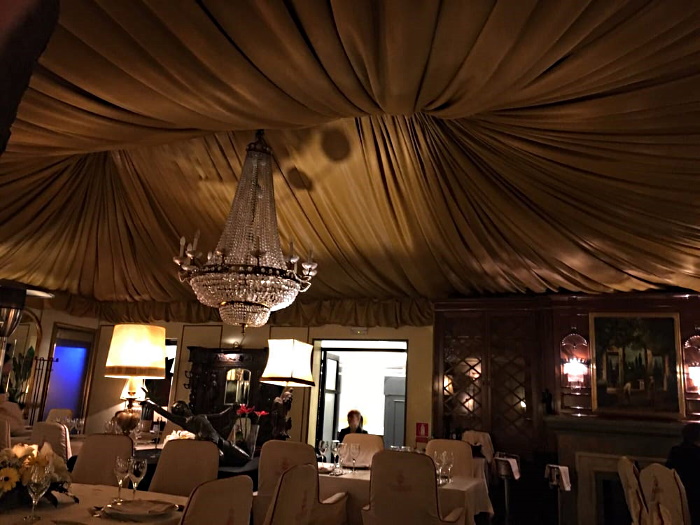 Da Greco – Italian – Dinner
Carrer de Santa Teresa, 10, 08012
Da Greco is easily one of the best Italian restaurants in Barcelona. From the posh seating and décor to the extremely friendly but never pushy staff, this restaurant is excellent for romantic dinners, eating out with clients or colleagues, or just dining by yourself or with friends. Portions are generous and tasty – I've eaten 5 or 6 of the pasta meals here, and each was quite memorable; full of flavor, hearty, and just unique enough that Da Greco's dishes cannot really be compared to those of other Italian restaurants.
Wine service at Da Greco is a primary facet of the experience, and desserts here are beautifully prepared, and extremely rich – you might take yours to go. 😉
I suggest staying away from the steak dishes; Da Greco's Italian dishes are its specialty, but its steak dishes aren't as good as many other restaurants in Barcelona.
After enjoying a spectacular meal at Da Greco, head over to Saigon cannabis club – but make sure you get an invitation.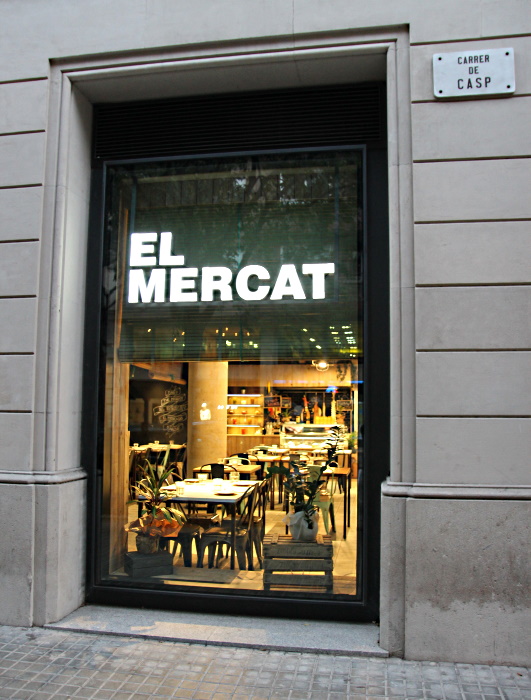 El Mercat – Business Lunch
Carrer de Casp, 35, 08010
El Mercat is fancy, expensive, and delicious in a way that you won't find at other Barcelona restaurants. Serving up Catalan dishes in the Old-World style, El Mercat is unique among Barna's high-class establishments. From roast emu to some of the best soups in the city, El Mercat is noticeably unique, even among Catalan restaurants.
El Mercat is a perfect venue for a business lunch or dinner, and its location on Calle Casp is ideal for working professionals in Ciutat Vella. You can watch the action of the city from the window-side tables, sit at the bar and watch the chefs at work, or enjoy a quiet table away from the hustle and bustle; El Mercat is nearly always busy, so be prepared.
After a lunch or dinner at El Mercat, two of the best cannabis clubs are just a short walk away; Choko and Mon Ami would make perfect accompaniments to your swanky meal at this Catalan restaurant.
Gotico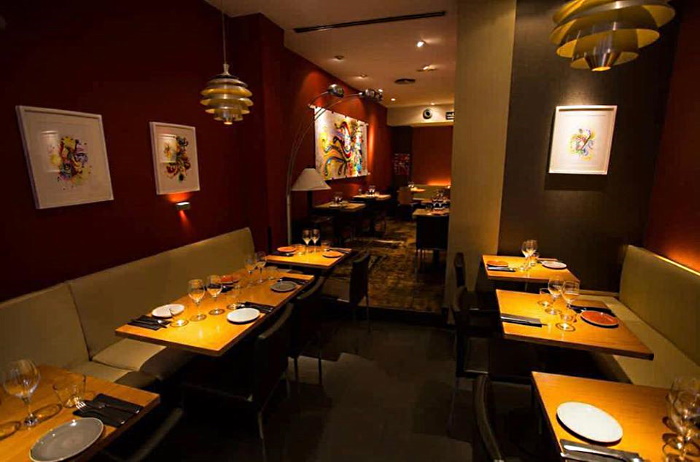 Gilda – Belgian, Dinner
Carrer Ample, 34, 08002
Gilda is located in the awe-inspiring Gothic Quarter of Barcelona. This is a Belgian-themed restaurant serving up hearty and fragrant dishes of lamb, steak, chicken, and interesting pasta plates. A quiet restaurant, Gilda is generally busy in the evenings and if often not open for lunch, so plan accordingly if you want to try the food here.
Gilda is a great place to spend a languid evening, enjoying tapas, entrees, hand-made desserts, and an excellent selection of wine and beer.
After dining at Gilda, consider hopping over to Circulo social club for a world-class smoke.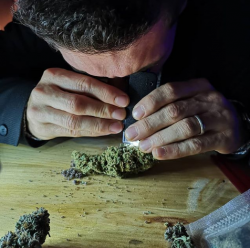 Latest posts by Russ Hudson
(see all)